Daewoo Shipbuilding & Marine Engineering Co. (DSME), South Korea's second largest shipbuilder, won an order to build a liquefied natural gas floating storage and regasification unit (LNG-FSRU) from Maran Gas Maritime Inc., a subsidiary of Greece's biggest shipper Angelicoussis Shipping Group, the company announced on Sunday.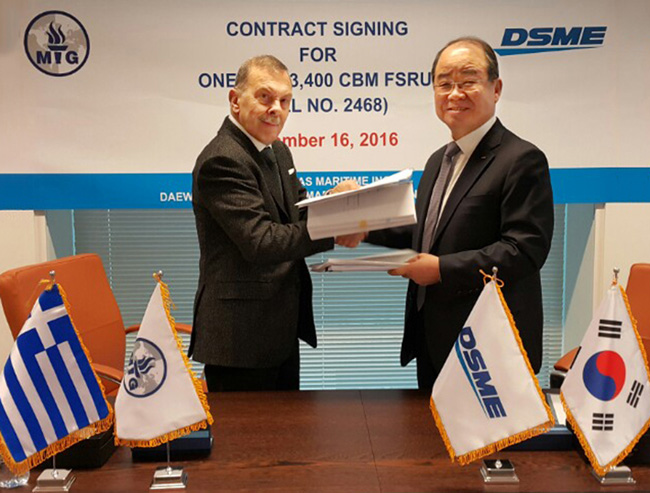 DSME CEO Chung Sung-lip, right, poses with John Angelicoussis, owner of Greece's biggest shipping company Angelicoussis Shipping Group, during the signing ceremony for a 173,400-cubic meter liquefied natural gas floating storage and regasification unit in Geneva, Switzerland, Friday. - Image courtesy of DSME
The contract to build a 173,400-cubic-meter LNG-FSRU included an option for two additional LNG carriers. Although the company did not disclose the value of the deal, it was reportedly estimated to be at $200 million to $250 million. If included the option, the total amount would stretch to 700 billion won ($589 million), according to sources.
It is the first LNG-FSRU order by Angelicoussis Shipping Group. The 295 meter-long and 46-wide vessel will be constructed at DSME's Okpo shipyard in Geoje, South Gyeongsang Province, and is scheduled to be shipped in 2020.
The vessel will be built based on the design of DSME's LNG Regasification Vessel (LNG-RV) that the company had developed on its own and constructed for the first time in the world in 2005, and will be capable of cruising at a maximum speed of 18 knots.
Source: Pulse