Survitec Group, the market leader in worldwide aviation, marine and offshore safety & survival solutions, has announced that P&O Ferries have installed two new Survitec BRUDE Explorer-720 fast rescue boats onto their vessels, the Pride of York and the Pride of Bruges operating on the North Sea route between Hull and Zeebrugge.
The BRUDE Explorer-720 is one of the most innovative and efficient fast rescue boats available. At 7.4m in length, it has proven reliability, maneuverability and sea-keeping abilities. It is perfect for search and recovery, dive support and work boat duties. The Brude Explorer-720 is built and fitted for operations under Arctic conditions, and can be delivered in sulfur yellow for better visibility. Its Steyr 223 engine gives a minimum 30 knots, a range of 100 nautical miles or 4 hours with 3 persons onboard. In addition, the bollard pull of 6.4kN makes towing of the largest liferafts an easy task.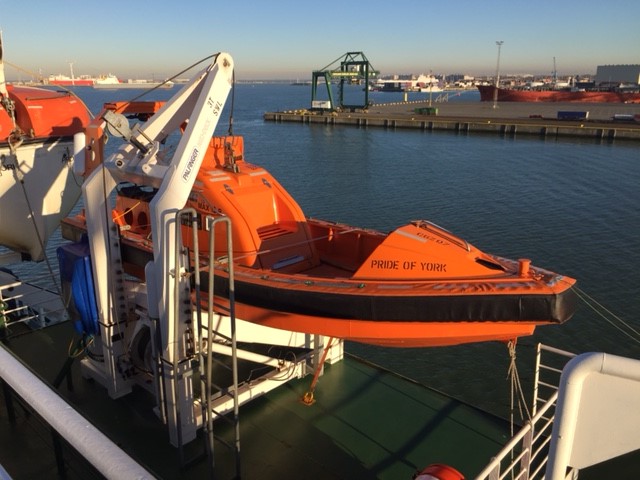 The use of the BRUDE Explorer-720 by P&O Ferries adds to the strong relationship between the two companies, with Survitec supplying safety equipment to 15 vessels in the passenger ferry fleet.
Grant Laversuch, Head of Safety Management, P&O said: "We enjoy a good working relationship with Survitec and they have been a reliable supplier for many years. The latest fast rescue boat is exceptional and is a further demonstration of Survitec's ability to supply and service world class safety equipment."
Survitec currently also supply P&O ferries with the market leading Marin Ark Marine Evacuation System (MES) enabling ferries to safely and efficiently evacuate high number of passengers in an emergency. Survitec also provides 100% of the system servicing in-house and additionally assists in crew training and provision of training equipment.
Simon Young, Chief Officer Pride of York, P&O Ferries added: "I'd just like to say that the new rescue boat is brilliant. From our extensive testing and training exercises we are very happy with the layout & the handling characteristics."

Mark Hart, Head of Marine Sales, Survitec Group said: "Our relationship with P&O Ferries has developed over many years to ensure we are working closely together to provide the latest safety equipment on board as well as supporting P&O with our servicing and maintenance expertise as required. The addition of the latest fast rescue boats complement the existing supply of MES, liferafts, lifejackets, and general life saving equipment."
The Brude Explorer-720 also holds an IHM / Green passport, designed, tested and approved to meet the latest MED and SOLAS requirements.
Source: Survitec Group