Port of Ghent recorded 2016 as the best year ever. The seaborne cargo traffic registered a record with 29.1 million tonnes. Moreover, Ghent achieved a record for its conventional general cargo traffic and it registered an unprecedented volume of liquid bulk. Ghent again sees its position as bulk port and as the country's biggest dry bulk port confirmed. The port's main trading partners are Canada, Russia and Brazil. In 2016, Ghent port registered a total waterborne cargo traffic of 51 million tonnes or 9.8% more than in 2015. Ghent Port Company is very pleased with these figures.
Seaborne cargo traffic: strongest year ever and records for general cargo and liquid bulk
The seaborne cargo traffic is good for 29.1 million tonnes, this is an increase by 10.3%. This makes 2016 at the same time the best year ever for seagoing shipping. Also, the assumed tonnages of 30 million tonnes in 2020 are coming in sight.
With 3.7 million tonnes, the port registers a record for the second year in a row for its conventional general cargo traffic (3.8%). Slabs, sheet iron and sheet steel are the main goods here. The liquid bulk traffic achieves an unprecedented volume of 5.4 million tonnes (+45.9%) owing to the increase of naphtha.
Ro/ro traffic remains above the 2 million tonnes mark for the third year on end and experiences the best year ever as for the number of lane metres (1.8 million). Also, a peak number of trailers were shipped by ro/ro. The port's container traffic is almost halved to 0.1 million tonnes.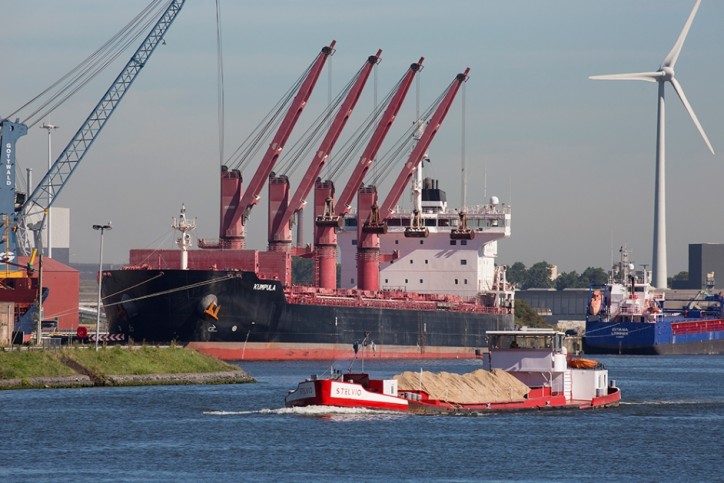 Inland shipping is regaining strongly
Inland traffic increased to 21.9 million tonnes. With a 9%growth, a good year has been ended after 2015 when inland shipping still dealt with a serious blow. 2016 is the fourth best year ever and remains well above the set target figure of 20 million tonnes. The main goods having been transported by inland shipping are coal, gas and diesel oil, sand and gravel.
Seaborne and inland traffics, deepsea and shortsea
For 2016, the overall cargo traffic by seagoing and inland navigation reached 51 million tonnes as against 46.5 million tonnes the year before. This is an increase by 4.5 million tonnes (+9.8%). Consequently, this is the second time that port of Ghent crosses the limit of a total cargo traffic of 50 million tonnes.
The seaborne cargo volume increased by 10.3% to 29.1 million tonnes. The transatlantic traffic (deepsea traffic) represents 36.1% of this traffic. Shortsea shipping (shipping along the European coasts and on the Mediterranean Sea) takes up a share of 63.9% of this.
Imports and exports
74% of the seaborne volume has been imported and 26% exported. A proportion that has been similar for a few years now.
60% of the inland navigation volume has been imported and 40% exported. This is the biggest export share since 2007.
Main trading partners: Canada, Russia and Brazil
The top ten of the main trading partners by sea reaches 19.8 million tonnes and as such represents 68% of this volume (as against 71% in 2015).
The most important shifts are that Canada now takes the first place (instead of at three), Russia remains second and Brazil takes up the third place (instead of the first one). Sweden stays at four for the second year on end and China enters the top ten for the first time.
Consequently, the most important trading partner is Canada with iron ore and wood pellets (3.5 million tonnes). Russia remains second for the eighth consecutive year, with mainly slabs, coal, anthracite and linseed (3.1 million tonnes). Brazil takes up the third place (2.6 million tonnes) with principally iron ore and orange juice.
Sweden (ro/ro traffic) ends at four before Great Britain (sheet steel and naphtha) at five. Turkey ranks sixth (scrap and sheet steel) and the United States of America are seventh (wood pellets, coal and petroleum coke). At eight, there is Norway (iron ore) followed by Latvia (coal, anthracite and linseed) at nine. China (naphtha) closes the top ten.
Again more vessels
In 2016, 2,891 seagoing vessels have entered the port, this is 44 more than the year before (+1.6%). The scale increase of the ships continues on its course, also in Ghent.
In inland shipping, the number of vessels ended at 14,073, which is 649 units or almost 5% more.
Ghent, again the biggest dry bulk port of the country
With a volume of 17.7 million tonnes, Ghent remains the biggest dry bulk port of the country for seaborne cargo and this for the fourth year in a row. As such, dry bulk takes up 61% of the seaborne volume (-2%).
The liquid bulk tonnages almost doubled to 5.4 million tonnes and with a total of 19%, they form a bigger share of the seaborne cargo traffic (+5%).
Growth in issuing of land
In 2016, Ghent Port Company issued 27 hectares of land on which companies are investing and developing activities. This is far more than the yearly planned 15 hectares.
Source: Port Ghent