In the 48 hours following Sea Shepherd's discovery of a Japanese whaling vessel poaching in the Australian Whale Sanctuary, images of the harpooned minke whale on its deck have gone viral, generating international outrage, as well as criticism from the Australian government.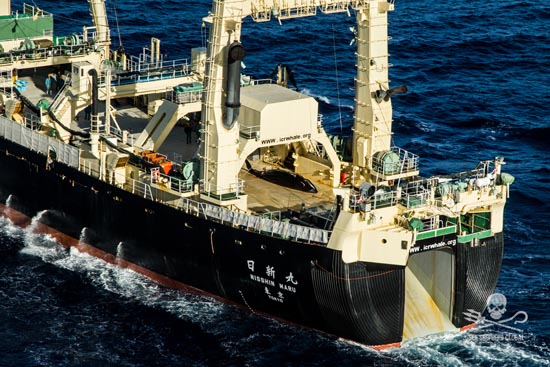 Dead minke whale on the deck of the Nisshin Maru. Photo: Glenn Lockitch
Photographs and video footage taken from the helicopter of Sea Shepherd's MV Steve Irwin show the crew of the Nisshin Maru factory ship hastily concealing the slaughtered whale with a tarp, while the crew of the nearby Yushin Maru scrambled to cover their harpoon guns. But the damage was already done.
"Once again Sea Shepherd caught the Japanese whale poachers with blood on their hands," said Sea Shepherd Global Director, Captain Alex Cornelissen.
The images immediately went viral on Twitter and Facebook, reaching over 4.5 million views by Tuesday morning, and has been picked up by all major international press outlets in the US, Europe, Asia, and Australia/New Zealand.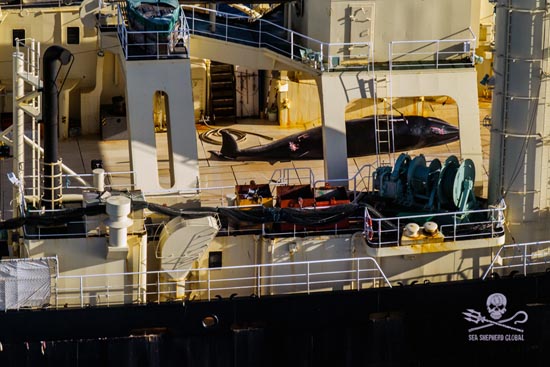 Close-up photo of the slaughtered minke whale before the Nisshin Maru crew are able to cover it with a tarp. Photo: Glenn Lockitch
Forced to address the issue just days after hosting Japan's Prime Minister, the Australian Environment Minister Josh Frydenberg condemned the whalers in a statement on Monday: "The Australian government is deeply disappointed that Japan has decided to return to the Southern Ocean this summer to undertake so-called 'scientific' whaling. It is not necessary to kill whales in order to study them," he added.
"New Zealand will be expressing its significant disappointment about what is going on there," echoed New Zealand's Prime Minister, Bill English, promising to support Australia's fight to stop Japanese whaling through the "appropriate channels."

"Frankly, simply being 'disappointed' does not cut it when the majority of Australians want action to stop the Japanese whale-killing fleet," said Sea Shepherd Australia Director Jeff Hansen in response to the politicians' comments.

While keeping the Japanese poachers on the run, MV Steve Irwin Captain Wyanda Lublink radioed the Yushin Maru #2 harpoon ship: "We have caught you whaling illegally in a protected whale sanctuary in Australian waters. You are in contempt of the Australian Federal Court and the International Court of Justice, and we demand you stop your operations." Receiving no reply, she further informed the poaching vessel that Sea Shepherd had video footage of them with the whale. "We will take this evidence back to Australia so there can be an investigation."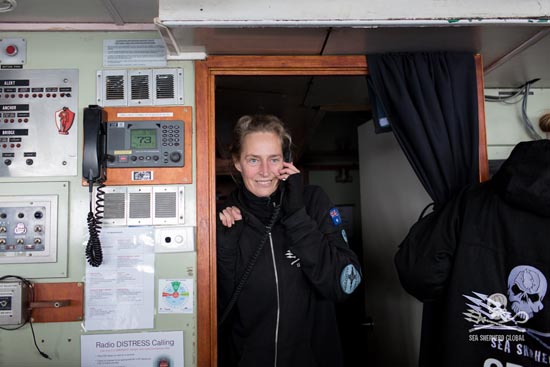 Captain Wyanda Lublink sending a radio message to the Yushin Maru #2 harpoon ship. Photo by Chelsea Manning
Captain Adam Meyerson of Sea Shepherd's Ocean Warrior patrol vessel noted the word "RESEARCH" usually painted on the side of the Nisshin Maru is missing this year: "They seem to have abandoned the pretext of the 'scientific research' charade."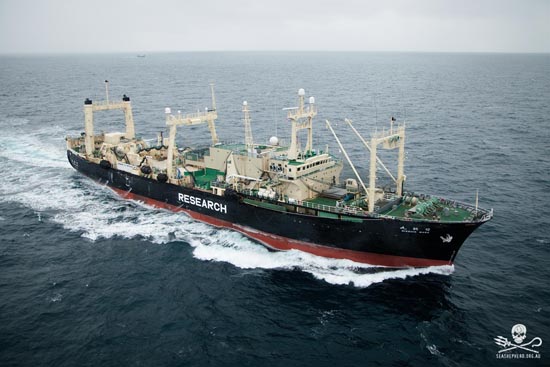 The word 'RESEARCH' has been removed from the Nisshin Maru factory ship. Photos by Tim Waters and Chelsea Manning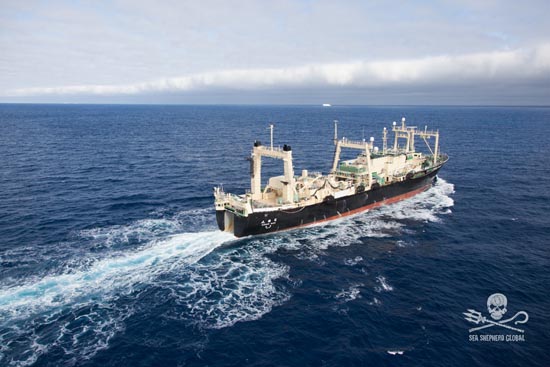 Although Monday's dense fog and rough conditions prevented Sea Shepherd's helicopter from keeping an eye on the Japanese fleet, the low visibility also makes it impossible for the whalers to continue poaching until the weather clears. Captain Cornelissen promises Sea Shepherd will be ready for them when it does. "Like every year, Sea Shepherd will continue to hunt down this criminal operation until justice is served."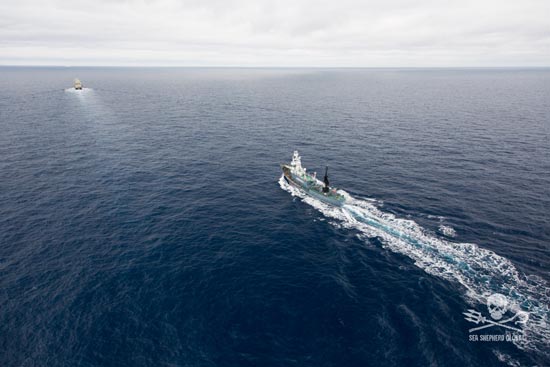 Japanese whaling fleet on the run. Photo by Chelsea Manning
Source: Sea Shepherd