International Container Terminal Services Inc. (ICTSI) said its flagship terminal in Manila handled two million twenty-foot equivalent units last year, a milestone for the company.
The port operator owned by tycoon Enrique Razon said terminal utilization at the Manila International Container Terminal significantly improved since the completion of Yard 7 in November 2015.
Yard 7, which is a part of MICT's P5-billion expansion project, increased the terminal's capacity by 18 percent from 2.5 million to 2.75 million TEUs.
"The construction of Yard 7 and the implementation of Tabs [Terminal Appointment Booking System] last year gave us the flexibility and efficiency we need to perform optimally. We have more projects in the pipeline like the revival of the rail line which will link MICT with Laguna Gateway Inland Container Terminal," ICTSI senior vice president and regional head of Asia-Pacific and MICT Christian Gonzalez said.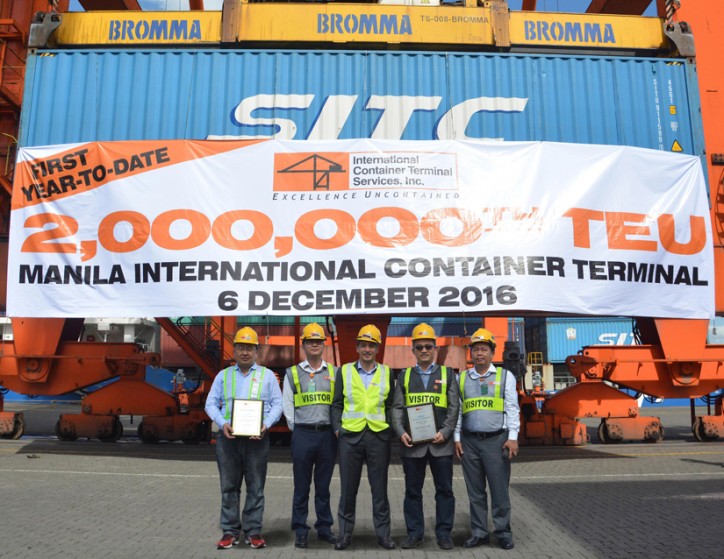 The Manila International Container Terminal, International Container Terminal Services Inc.'s flagship operation and the Philippines' largest, most technologically advanced container terminal, capped 2016 with a milestone as it reached its first annual two millionth TEU move in December. The two millionth TEU container was offloaded from SITC Osaka, which is operated by Chinese megaliner SITC Container Lines. Shown during a ceremony to commemorate the milestone are (from left) Captain Li Qinghua, SITC Osaka vessel master; Huang Ping, SITC import assistant manager; ChristianGonzalez, ICTSI senior vice president and regional head of Asia-Pacific and MICT; Qing Quan, SICT Container Lines Philippines Inc. general manager; and Carmelo Tejero, SITC senior operations manager.
The 2-million-TEU milestone also triggered a multi-billion peso capacity improvement commitment with the Philippine Ports Authority that required ICTSI to commission five additional post-Panamax quay cranes along with corresponding yard equipment and build at least another berth by 2019.
Aside from establishing an intermodal link between its Manila and Laguna terminals, ICTSI also submitted a proposal to the Department of Transportation to build the Cavite Gateway Terminal―a $30 million common-user barge and roll on–roll off terminal in Tanza, Cavite.
The 115,000-TEU facility, which will be built in a six-hectare property, will also be directly linked with MICT.
The trans-shipping of cargo from MICT to CGT and vice-versa will serve the dynamic economic activity of Cavite and lessen the number of truck trips in Manila by 140,000 annually, according to the company.
"All of these projects are aimed at maximizing the efficiency of our operation and ensuring uninterrupted movement in the supply chain regardless of the season or fluctuation in demand," Gonzalez said.

"We continue to work with our stakeholders and partners in the government in formulating and implementing strategies for the benefit of the industry and the national economy," he said.
The port operator earlier posted a net income of $150.8 million in January to September from $143.7 million in the same period in 2015.
ICTSI's revenues from port operations hit $390.3 million, up 15 percent from $339.5 million in 2015.
Source: Manila Standard