Malaysia-based shipowner MISC has named its second of the five Moss-type LNG carrier newbuildings it has ordered from Hyundai Heavy Industries for long-term charter to state-owned energy firm Petronas.
The 150,200m³ LNG carrier has been named Seri Cenderawasih. It will join its sistership Seri Camellia, the first of MISC's so-called Seri C-class ships, which launched in September, supporting Petronas' growing energy-transport needs.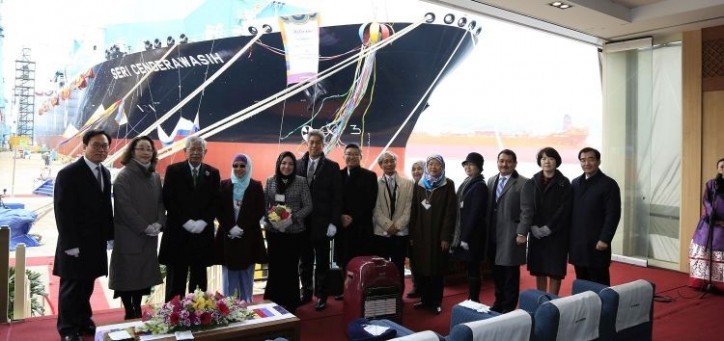 Petronas, MISC and HHI officials gather to name Seri Cenderawasih
MISC's Seri C-class ships underpin the company's long-term fleet-expansion programme, designed for worldwide trading. The new vessels provide a more robust and superior cargo containment system and operational flexibility to operate in harsh weather.
They feature an integrated hull structure with four spherical tanks shielded by the continuous cover, for improved strength. They are designed for improved energy efficiency, emissions reductions, biodiversity management and end-of-life disposal.
Other features include a selective catalytic reduction system for the diesel generator to comply with the latest IMO Tier III requirement and ozone ballast water treatment systems. MISC's Seri-C carriers are powered by an ultra-stream turbine plant, fitted with pre-swirl duct and propeller boss cap fin.
Officials attending the ceremony included Petronas executive vice president and chief executive downstream business Encik Md Arif Mahmood, whose wife Puan Nazrin Aneeza Nazaruddin is sponsor of Seri Cenderawasih.
Source: LNG World Shipping