Initiative on Environmental Protection Ahead of International Rules
Mitsui O.S.K. Lines, Ltd. yesteray announced that it has reached an agreement to launch a joint study of a liquefied natural gas (LNG)-fueled Capesize bulker with five other companies- BHP Billiton, DNV GL, Rio Tinto, Shanghai Merchant Ship Design and Research Institute (SDARI) and Woodside Energy. The parties signed a letter of agreement at a ceremony held in Singapore on January 20.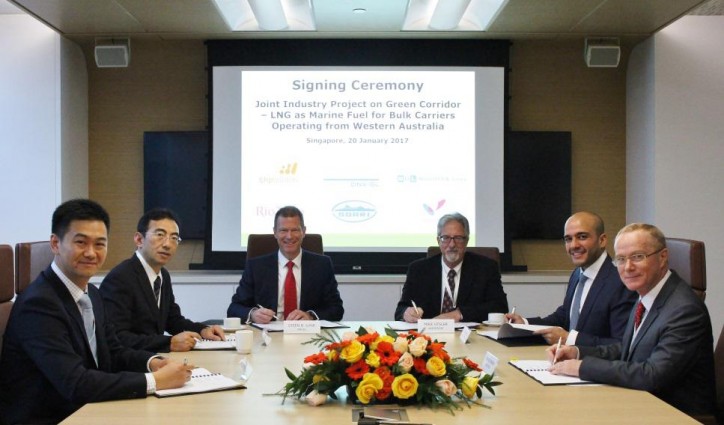 MOL Executive Officer Toshiaki Tanaka, second from the left, at the signing ceremony
The joint research project, called "Green Corridor," aims to reduce merchant vessels' emissions of NOX and SOX (*) in advance of international treaties calling for stricter emissions standards, and will examine the technological and economic feasibility of an LNG-fueled bulker.
The MOL Group continually takes a proactive approach to developing and adopting technologies that contribute to reducing environmental impact and enhancing safe operation, while providing safe and reliable transport services.
(*) SOX emissions from vessels are addressed in the International Convention for the Prevention of Pollution from Ships (MARPOL) Treaty Annex VI (prevention of air pollution), and vessels are required to use bunker fuel with a sulfur content of 0.1% or less in Emission Control Areas (ECAs) such as North America. In general sea areas (all excluding ECAs), the treaty is expected to reduce the maximum sulfur content of bunker in use from the current standard 3.5% to 0.5% in 2020. The regulation will be applied to vessels already in service
Source: MOL