As part of the Ministry of Transport and Communications' ambitious strategy, Qatar Ports Management Company- Mwani Qatar, in association with MSC Mediterranean Shipping Company, has launched the first ever regular direct service between Hamad Port and Shanghai.
MSC ELMA FK701A, the first vessel to sail on the new service under MSC's New Falcon Service, left Shanghai on January 5 and arrived at Hamad Port on January 26, marking the beginning of the port's transshipment capabilities.
The addition to the company's New Falcon service will see container volumes travel West from the Far East and South East Asia, to Qatar. Customers will also benefit from a competitive transit time and better service coverage over all the major ports and inlands from Far East/South East Asia.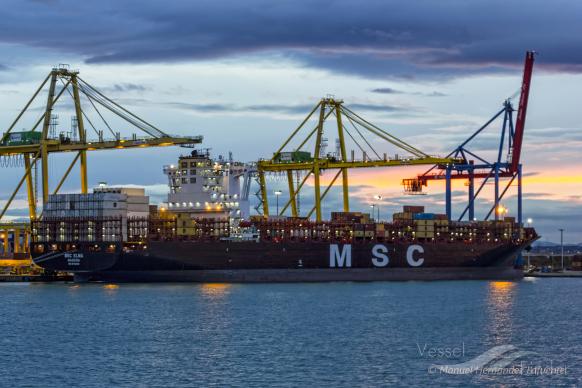 Container ship MSC Elma - Image courtesy: Manuel Hernández Lafuente
Commenting on the launch, Mwani Qatar's CEO Capt. Abdulla al-Khanji said: "We are pleased to announce the launch of this first ever regular service, which connects Hamad Port directly with the world's second-largest economy and works to reduce the time it takes to get ships from this global market to 20 days .
"Through our dual emphasis on continuous improvement across all shipping lines and by enhancing our focus on better meeting the needs of our customers, we constantly strive to develop and improve our services in a way that meets our customers aspirations and enhance our presence as a regional and international leading integrated port and logistics services provider,"al-Khanji stated.

"I take this opportunity to appreciate MSC, its management and staff for launching this regular service to Hamad Port and this is a significant moment for us at Mwani Qatar, Hamad Port and the Ministry of Transport & Communications," he added.
The new facility will also serve volumes out of South and East India, via Colombo. It will help to meet the growing demand of Qatar's export market, by offering direct connections via Mundra Port to worldwide destinations.
Hamad Port will provide increased throughput with a capacity for 2 mn containers per year, eventually increasing to 7 mn. This will then be supported by transshipment links by rail, sea and road to the region.
Ports in Qatar have been and will continue to be a major pillar of Qatar's development and an important source that would maximise its contribution in the GDP of the nation. The constant support provided by the government has taken the ports in Qatar to the highest levels of internationally advanced global standards.
Hamad Port -- situated next to the Um Al-Houl economic zone which is equipped with the latest infrastructure and is served by a dedicated industrial canal -- consists of a new container port, naval base and a special economic zone.
Source: Gulf Times