Further Eco-Friendships with NOx reduction and higher heat efficiency
Mitsubishi Heavy Industries Marine Machinery & Engine Co., Ltd. (MHI-MME) delivered its Regas Boiler to Hyundai Heavy Industries Co. Ltd.(HHI) for FSRU developed by Norwegian shipowner, Hoegh.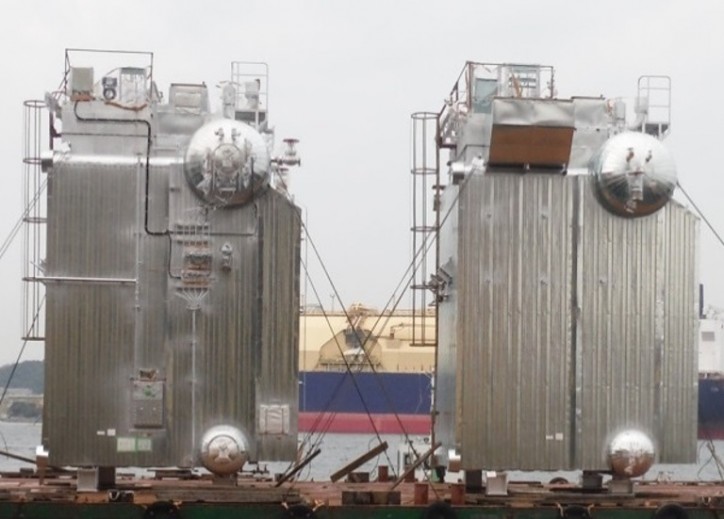 FSRU is a marine floating equipment which stores the Liquefied Natural Gas (LNG), re-gasifies and transfers LNG to the land pipe line. The Regas boiler mounted on FSRU has a role in providing the regasification unit with the required heat power (evaporation). As the Regas boiler is the key equipment for FSRU, MHI-MME has been chosen as a qualified supplier through the high evaluation of its technology, quality, and reliability.
The boiler type for this project is dual fuel (oil/gas) MAC type boiler "MAC-90BF" (evaporation amount: 90t/h), which has been originally reputed as high reliability and long life in the marine market. For this project, by recovering the heat of exhaust gas from Regas Boiler, the boiler efficiency is improved by 12.5%, i,e, from 82.5% up to 95%. MHI-MME also achieved huge NOx reduction less than 100mg/Nm3 which, can be applied to the severe environmental Regulation Area.(*Only in the case of Gas Firing Mode)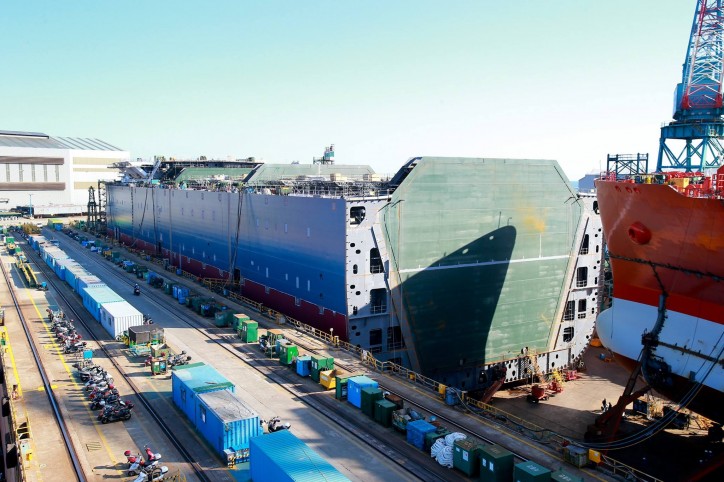 Hoegh LNG's FSRU under construction - Image courtesy: Hoegh LNG
MHI-MME has delivered many main boilers (*Dual Fuel Boiler) which reached more than 400 units. By applying this highly reliable technology to the Dual Fuel Aux. Boiler including Regas Boiler, MHI-MME will satisfy the high environmental regulation and have a good reputation from many customers.
MHI-MME will keep providing environment-friendly machinery to the market by applying the latest know-how and cutting-edge technology.
Source: MHI-MME