Ocean Yield will charter its Lewek Connector subsea vessel to Singapore's Ezra, under newly agreed terms.
The move comes just a few days after the owner had terminated the charter for the vessel it had with Ezra's cash-strapped subsidiary Emas AMC.
For background, Emas AMC in December 2016, requested the standstill agreement relating to the bareboat charter of the ultra- deepwater multipurpose, flex-lay subsea construction vessel for December 2016 and January 2017.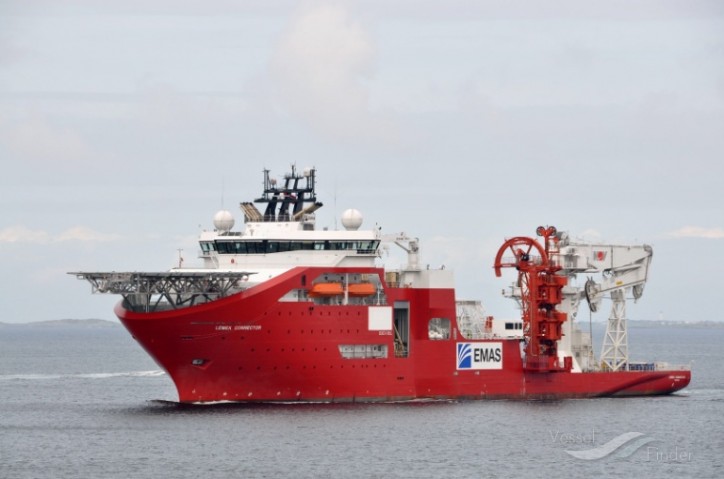 Offshore Support Vessel Lewek Connector - Image courtesy: Marcel Coster
At the time, Ocean Yield noted EMAS AMC's restructuring efforts by its parent company EMAS Chiyoda Subsea without confirming whether it would comply to the request or not.
Emas AMC is a subsidiary of Emas Chiyoda Subsea, which, in turn, is owned 40% by Ezra Holdings Ltd., 35% by Chiyoda Corporation and 25% by Nippon Yusen Kabushiki Kaisha ("NYK"). EMAS-AMC AS' obligations under the charterparty for the Lewek Connector are guaranteed by Ezra Holdings Limited.
On Monday, February 13 Ocean Yield said that, in order to protect the company's legal interest, a notice of termination related to the bareboat charter of the 2011-built Lewek Connector has now been served. The company then said it was still in talks regarding a potential short-term contract for the vessel to a related company of Ezra Holdings at a reduced rate while a long-term solution is being discussed.
This has now materialized as Ocean Yield on Thursday said that it entered into a contract for the Lewek Connector with a related company of Ezra for a period of four months at a rate of $40,000 per day.
Ocean Yield also said it would continue to participate in the discussions regarding a financial restructuring of the EMAS Chiyoda Subsea Group.
Source: Offshore Energy Today