EUKOR's car carrier has been seized in Libya by a boat of Khalifa Haftar-led forces, which intercepted the vessel, while it was sailing en route from South Korea to Misrata Port, a local news media reported on Sunday (Feb 19, 2017).
Moments from the vessel's interception - Images courtesy of LibyaObserver
Haftar's forces led the seized ship with 12 Filipino sailors and a cargo of 5000 Korean KIA and Hyundai cars to Ras Al-Hilal port in east Libya.
The Libyan News Agency (LANA) of Al-Thanni-chaired eastern government cited the leader of the interception operation as saying that the ship did not take heed of the calls of their patrols, adding that it was sailing in a no-entry military zone.
"We sent a boat to stop the ship and then the ship was tugged into Ras Al-Hilal port to be scoured by the navy personnel."
This was not the first time Haftar's forces seize a commercial ship in the Libyan waters. Earlier, they intercepted a ship heading to Derna with a cargo of heavy crude oil used for operating the city's power plant.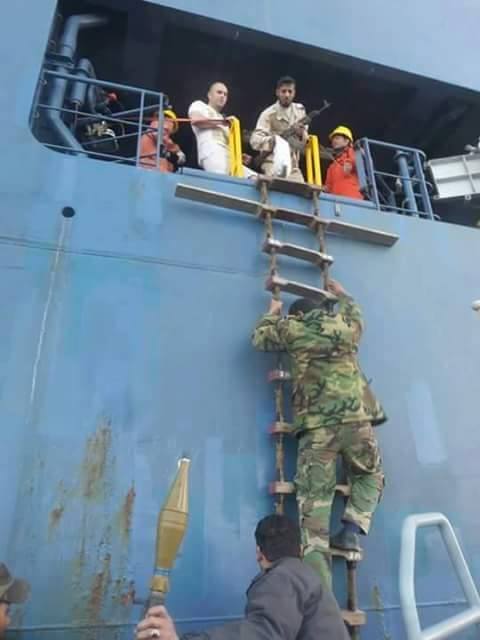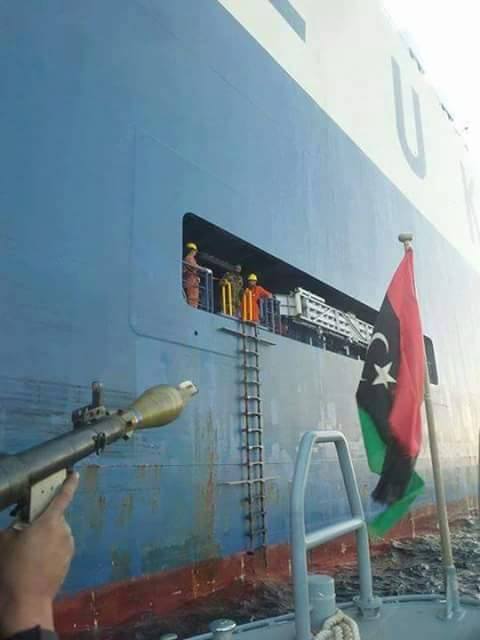 Source: LibyaObserver