Arctia's icebreaker Voima set out from Katajanokka, Helsinki, on Wednesday, 15 February 2017, at 12.00 noon, for icebreaking duty in the Eastern Gulf of Finland. Although the ice winter has been mild in the South of Finland, the aim is to ensure smooth navigation in the Eastern Gulf of Finland, where brash ice barriers may form at the ice edge. This makes it difficult for weaker vessels to navigate.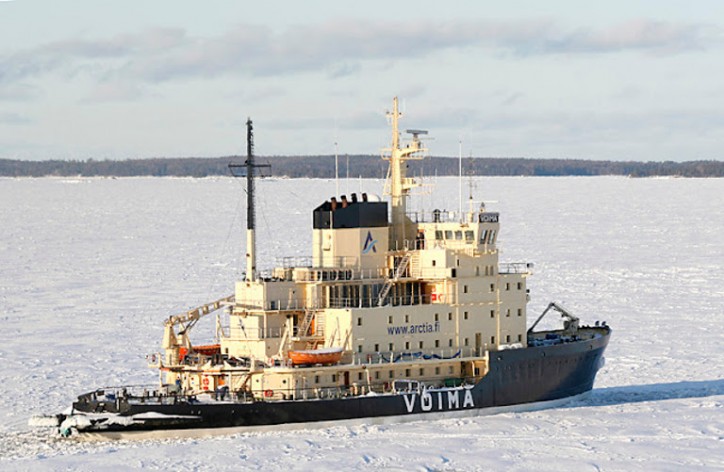 In the Bay of Bothnia, the winter has been more challenging than could be deduced from weather conditions and ice coverage. The reason for this has been the formation of brash ice barriers. At the turn of January-February, icebreaker Sisu was sent to the Bay of Bothnia, because its four thrusters enable it to help vessels amid compressing brash ice barriers more efficiently than Otso and Kontio, that only have two thrusters. The newest icebreaker in Arctia's fleet, Polaris, has proven its strength and agility in the demanding ice conditions of the Bothnian Bay.
This winter is a good reminder of how important it is for Finland to maintain and modernise a strong and versatile icebreaker fleet. To ensure that the modernisation can be done cost-efficiently, it is important to increase the utilisation rate of the fleet.
IB Voima, launched in 1954, is the oldest vessel in Arctia's icebreaker fleet. The sturdy-hulled Voima has demonstrated its reliability in the Baltic Sea over the decades and has served as a model for many four-thruster icebreakers built after it. Voima spent the late summer 2016 in five-year docking in Naantali. During the docking, Voima's life span was extended by ten years: the bottom of the icebreaker, for example, received 250 tonnes of new sheet metal and its bridge was provided with new navigation equipment. The life span extension of IB Voima is part of the WINMOS II -project and it has been partly funded by the European Union's Connecting Europe Facility (CEF) for Transport.
"It's great to have the icebreaker back in action after a long docking period. We will help vessels in the areas of Loviisa, Kotka and Hamina," says Toni Kovanen, Master of icebreaker Voima.
Source: Arctia