Oceaneering International, Inc. (Oceaneering) (NYSE:OII) announced that it has entered into a long-term agreement with Maersk Supply Service A/S ("Maersk") to provide eight work-class remotely operated vehicles ("ROVs"), survey and associated services, including subsea tooling, engineering, communication and data solutions, to support Maersk's global operations.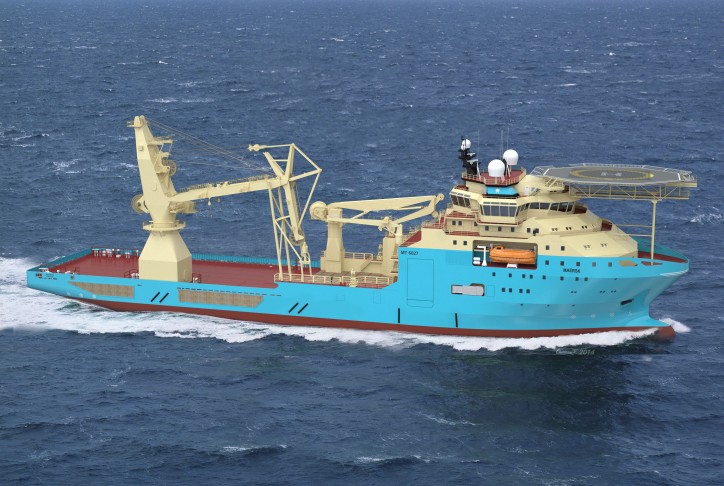 Stingray-class subsea support vessel - Image courtesy of Maersk Supply Service
These ROVs will be installed onboard six Maersk newbuild vessels, comprising of two Stingray-class Subsea Intervention Vessels and four Starfish-class Anchor Handling Tug Supply Vessels, which are scheduled for delivery through 2017. Oceaneering provides ROVs, survey and associated services on a number of existing Maersk vessels and drilling rigs.
M. Kevin McEvoy, Chief Executive Officer of Oceaneering, said, "We are excited about the opportunity to continue our long-standing relationship with Maersk as one of their preferred providers. Our companies share a similar set of core values, and together our combined range of services, experience, and focus on safety and quality, make for a successful working relationship. This award is consistent with our stated objective to increase the number of ROVs onboard third-party vessels while maintaining our ROV market share on contracted rigs and those most likely to return to work."
Starfish–class Anchor handling vessel - Image courtesy of Maersk Supply Service
"Maersk is committed to maximizing the value of offshore project operations for customers. Through this strong partnership with Oceaneering we are able to simplify the planning and procurement process for clients by offering multiple services in one agreement. This cooperation is a prime example of how our new Integrated Solutions business area is dedicated to providing a smoother sourcing and execution process for our customers worldwide," said Olivier Trouve, Head of Integrated Solutions of Maersk.
Oceaneering is a global provider of engineered services and products, primarily to the offshore oil and gas industry, with a focus on deepwater applications. Through the use of its applied technology expertise, Oceaneering also serves the defense, entertainment, and aerospace industries.
Source: Oceaneering