The works for the New Lock in Terneuzen will have an impact on navigation. To limit the hindrance as much as possible, the Ghent–Terneuzen information tool – now only for seagoing vessels and tug boats – will from July 1 also be available for inland navigation.
With this planning tool, inland vessels will be able to notify in advance in view of passing through the lock. Ghent Port Company, Zeeland Seaports, the Kenniscentrum Binnenvaart Vlaanderen (Flanders inland navigation knowledge centre), Koninklijke BLN-Schuttevaer (royal inland navigation society), the Vlaamse Maritieme Dienstverlening en Kust (Flemish maritime service rendering and coast) and the Dutch Rijkswaterstaat (Department of Waterways and Public Works) signed an agreement for this purpose on February 23, 2017.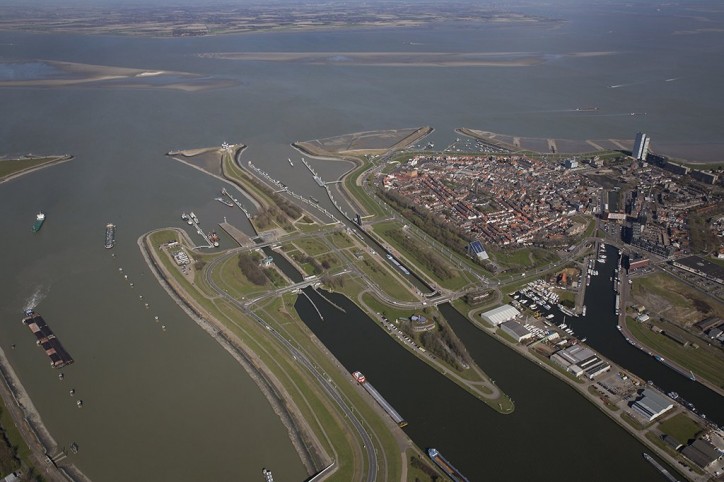 Construction of New Lock Terneuzen
In autumn of 2017, the works will start for the New Lock at the lock complex in Terneuzen. Instead of three locks now, there will only be two locks available then. During the construction period - until 2022- the Middensluis cannot be used. The New Lock will be built on that exact spot. Of course, bargees who have to pass through the lock are anxious for delays during the construction period. This is why a good planning is necessary.
Experience in planning seagoing vessels
In advance planning of lock passages for seagoing vessels has already been compulsory from 2012 onwards. This enables a smooth locking and avoids or limits waiting times as much as possible. Until now, the passage of inland shipping did not have to be planned in advance yet. Also, it was never applied on this scale before, neither in Flanders nor in the Netherlands.
Making use of the full lock capacity
With a good planning, the available capacity can be used better and bargees will know in advance at what time they will be able to pass through the lock. Consequently, bargees will be able to adapt their itinerary and timing for example by reducing speed and saving on fuel. Another advantage is that barge masters can lie in wait for their locking at a longer distance from the lock at berths that are less occupied.
Bargees can choose for themselves whether they want to plan their lock passage in advance or not. An inland vessel will be able to continue to notify its arrival at the lock by marine telephone, just like at present. The ship will then be allotted the first possible free position.
Cooperation for a smooth lock planning
The planning tool will be developed by order of Ghent Port Company, Zeeland Seaports, Maritieme Dienstverlening en Kust and Rijkswaterstaat. The development of the tool costs two hundred thousand euros and half of it will be financed by the New Lock Terneuzen project. Moreover, the Kenniscentrum Binnenvaart Vlaanderen, Koninklijke BLN-Schuttevaer, Loodswezen (pilot service), the Gemeenschappelijke Nautische Autoriteit (joint nautical authority), the Scheldt Radar Chain and Waterways and Seacanal are involved in the preparation.
Source: Port of Ghent