Bluewhale 1, as tall as a 37-storey building, is designed 'specifically for South China Sea'
China has put into service the world's largest and most advanced deepwater exploration platform, reported state media.
The semi-submersible drilling platform Bluewhale 1 is able to drill to greater depths than any other similar facilities, China Central Television (CCTV) reported on Saturday.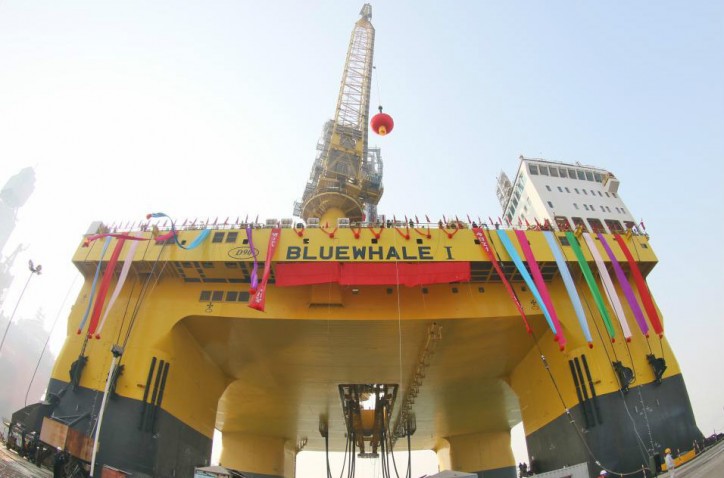 The US$700 million (S$986 million) platform is manufactured by Yantai CIMC Raffles Offshore (CIMC Raffles). CIMC Raffles is an equipment manufacturing subsidiary of China International Marine Containers (Group), the country's transportation equipment producer.
While Bluewhale 1 is an exploration platform, the world's largest production oil rig is Russia's Sakhalin-1 offshore platform, which weighs 200,000 tonnes.
Bluewhale 1 weighs 42,000 tonnes and has a deck the size of a football field. Its height is 118m, or as tall as a 37-storey building. The platform has a maximum operating depth of 3,658m, and can drill a farther 15,240m into the earth's crust. It is suitable for deep-sea operation across the world, according to the official website of CIMC Raffles.
Hong Kong's South China Morning Post said the Bluewhale 1 is designed "specifically for the South China Sea, where untapped oil reserves can lay buried 3,000m and more below sea level".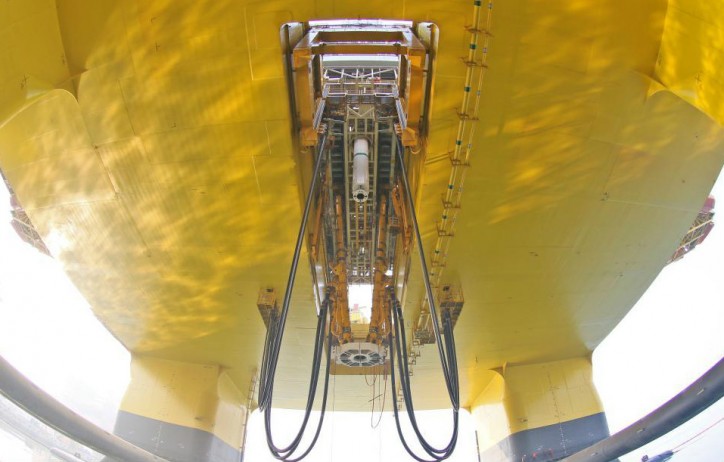 China's deployment of large drilling rigs in disputed waters has raised concerns among its neighbours, particularly Japan and Vietnam. In 2014, Chinese and Vietnamese marine forces had a stand-off when the Haiyang Shiyou 981 platform drilled near the disputed Paracel Islands in the South China Sea.
The Bluewhale 1 drilling platform uses state-of-the-art technology from leading domestic and overseas suppliers such as Germany's Siemens. Its operating speed is about a third faster than other Chinese drilling vessels, according to the manufacturer.
The Bluewhale I was delivered to the client - China National Petroleum Corporation (CNPC) Offshore Engineering Company, a subsidiary of the oil giant CNPC - at Yantai, a port city in Shandong province on Feb 13.
Its owner, CNPC, said a major concern was environmental accidents, in particular oil spills.
The vessel had undergone extensive tests before commercial operations began last month. Chinese rig makers also made news last month when an oil platform weighing 31,000 tonnes was loaded onto its largest semi-submersible ship Xinguanghua for delivery to Britain's Western Isles Development Project in the North Sea.
The first of its kind to be built by China, it will reach North Sea Oil Field in June.
Known as the Hope 6, the floating platform for oil production, storage and unloading took four years to build and can hold up to 44,000 barrels of crude oil.
Separately, China's first deep-sea manned submersible Jiaolong is currently on its first deep-sea exploration of the year .
It has carried out surveys in the north-west Indian Ocean, and will be exploring the South China Sea, Yap Trench and the Mariana Trench in the west Pacific Ocean.
Reports said the Jiaolong descended to a depth of 3,117m in the north- western Indian Ocean, and collected a variety of precious metals. Named after a mythical dragon, Jiaolong reached its deepest depth of 7,062m in the Mariana Trench in June 2012, reported Xinhua.
China has been increasingly active in deep-sea exploration, often touting the exploits of the Jiaolong manned submersible vehicle.
The vehicle was used in 2010 to plant a national flag beneath the disputed South China Sea, which is increasingly a source of tension between Beijing, its regional neighbours and the US.
Last year, China passed a new law on deep-sea exploration that it said will "protect the rightful interests" of Chinese citizens and organisations in their search for resources and in deep sea surveys.
Source: ST