To support Second Towage Licence for the Port of Port Hedland
Pilbara Marine Pty Ltd (Pilbara Marine), a wholly owned subsidiary of Fortescue Metals Group Ltd (Fortescue) has placed an order with Damen Shipyards for the building of six, 32 metre Rotor Tugs. These will be deployed at the company's operations at Port Hedland on Australia's west coast, the world's largest bulk export port. From there, Fortescue exports 165-170 million tonnes of iron ore per year.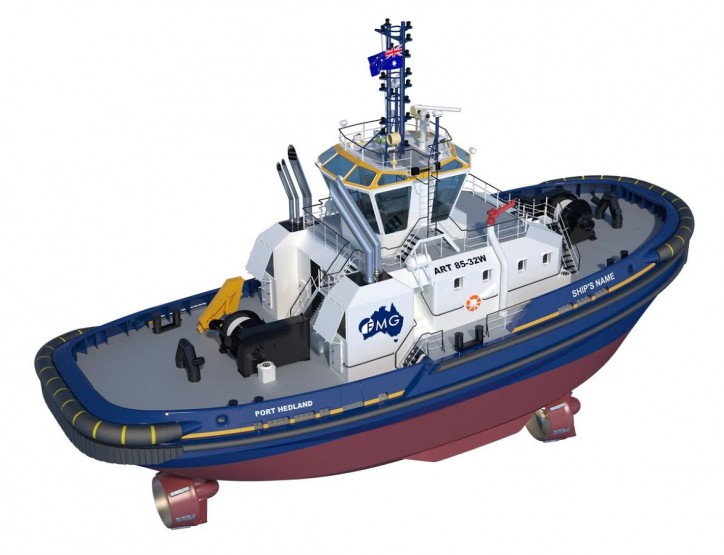 The six tugs are of the ART 85-32W class, designed by Robert Allan Ltd. Their Rotor®Tug propulsion system features three azimuth thrusters; two forward and one aft. Together these deliver the full 85 tonnes of bollard pull over both the bow and the stern, and 65% from amidships. The Rotor®Tug system delivers additional benefits regarding manoeuvrability, braking, and engine and winch redundancy. The W notation refers to the increased beam of these designs, providing additional stability during escorting operations conducted regularly at Port Hedland.
In May 2016 Pilbara Marine was awarded a second towage license by Pilbara Ports Authority for the port of Port Hedland and the new ART 85-32W rotor tugs will enable it to offer long-term, sustainable towage services.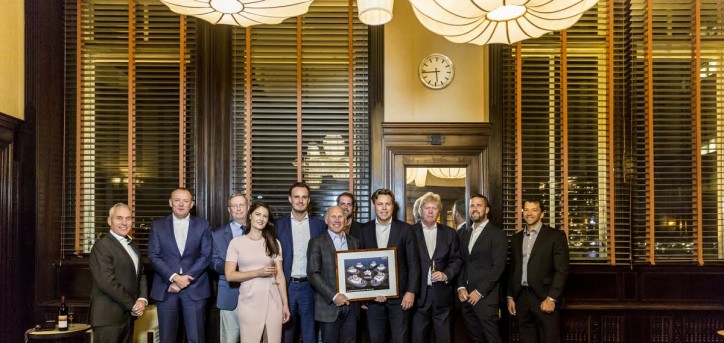 On the top photo from left to right: Jos van Woerkum (Managing Director, Damen Shipyards Hardinxveld), Roland Briene (Sales Director Asia Pacific, Damen Shipyards Gorinchem), Simon Evans (Technical Advisor), Rebecca Hayward (Legal Manager Strategic Contracts / Developments at Fortescue Metals Group), Vincent Maes (Area Sales Manager, Damen Shipyards Gorinchem), Peter Huston (Director – Corporate, Fortescue Metals Group), John Krielaart (Design & Proposal Engineer, Damen Shipyards Gorinchem), Arnout Damen (CCO, Damen Shipyards Group), Peter Baars (Product Director, Damen Shipyards Hardinxveld), Troy Whittaker (Manager – Strategic Contracts & Development, Fortescue Metals Group), Paul Deboni (Commercial Manager – Towage Execution, Fortescue Metals Group).
The six Rotor Tugs will be built at Damen's Song Cam Shipyard in Vietnam. The first two are scheduled for delivery ex-yard by the end of October 2018, with the remaining four due in early 2019.
"Damen, as a world leader in the design and construction of tugboats, has been very successful in Australia for many years. This project underlines again that Damen listens carefully to our customers' needs and that they value our superior quality vessels built for competitive prices, along with our technical expertise and after sales services. These factors have proven the difference in the success of this project," says Vincent Maes, Area Sales Manager.

Rebecca Hayward, Legal Manager Strategic Contracts / Developments at Fortescue Metals Group, added: "After reviewing the market, Damen was an obvious choice because of its global reputation for outstanding quality leading to lower running costs, as well as its proven track record of delivering vessels on time, within budget. We are confident that our full operational requirements will be met by the new ART 85-32W design and are heartened by the fact that Damen will provide long term support here in Western Australia."
Source: Damen