The Northwest Seaport Alliance has recorded an 8 percent year-to-date increase in container cargo through February.
International container volumes for the month of February remained steady with a 9.1 percent year-to-date increase despite fewer sailings. Compared to same time last year, full export loads saw a 4 percent increase, and import loads were up more than 7 percent for the year.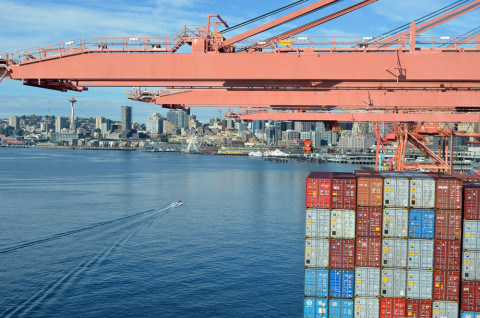 As anticipated, NWSA saw fewer vessel arrivals and amended service schedules by ocean carriers in February due to the Lunar New Year holiday, which began more than 10 days earlier than last year. In observance of the holiday, the factories in China traditionally shut down production for up to two weeks. As a result, international container volumes declined by 0.8 percent for the month.
At 102,697 TEUs (20-foot equivalent units), full imports declined 4 percent compared to February 2016. Meanwhile, full exports recorded 71,243 TEUs, nearly a 7 percent dip. Overall, total international TEU volumes grew 1 percent in February due to an increase in empty containers.
Total domestic volumes declined almost 8 percent, compared to February 2016. Year to date, Alaska volumes declined more than 6 percent in February and are expected to decline 5 to 6 percent this year due to soft market conditions. The Pacific Northwest trade with Hawaii, however, is expected to show modest growth for the year.
Other cargo:
Breakbulk cargo was down 4 percent to 25,043 metric tons due to market conditions.
Autos units were down 6 percent to 23,654 units due to market conditions.
Source: NSWA