South Korea's state-run creditors of Daewoo Shipbuilding & Marine Engineering Co. (DSME) said Thursday it will provide a fresh rescue package worth 6.7 trillion won (US$5.98 billion) to the ailing shipbuilder, but only if all stakeholders agree to a painful debt-for-equity swap plan.
The huge rescue measures, proposed by the state-run Korea Development Bank and Export-Import Bank of Korea, are the second round of bailout for the shipbuilder that has been suffering severe liquidity problems over heavy losses from offshore projects.
Under the rescue packages, Daewoo Shipbuilding will receive new loans worth 2.9 trillion won, if lenders and bondholders agree to swap 2.9 trillion won of debts for new shares in the shipbuilder.
The rescue package also included a three-to-five year grace period for unsecured loans worth 900 billion won.
Unless they agree on the debt-for-equity swap plan, Daewoo Shipbuilding will be placed under a new corporate rehabilitation program, which is a combination of debt workout and court receivership, the creditors said.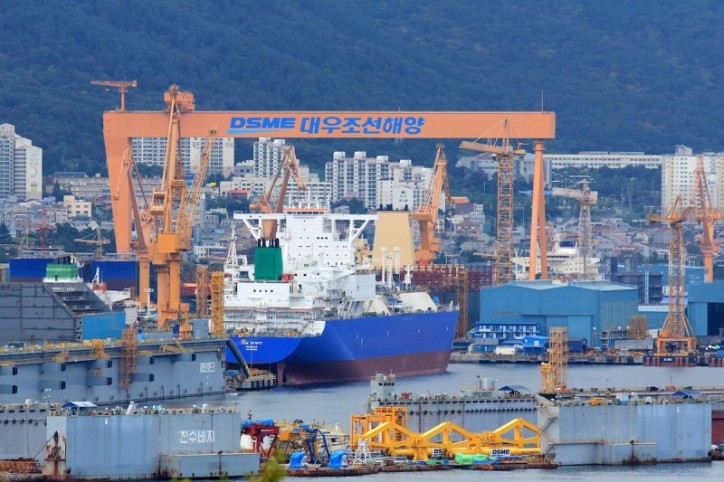 "If private lenders and bondholders disagree on the debt-for-swap plan, we will implement an intensive restructuring program by using legally binding measures," the creditors said in the statement.
Daewoo Shipbuilding will be required to cut 25 percent of its personnel costs and slash its workforce by 1,000 jobs.
The fresh rescue package calls for the labor union of Daewoo Shipbuilding not to stage a strike.
Thursday's rescue package is a reversal of the government's previous stance that it would not use fresh money to help salvage Daewoo.
The Financial Services Commission (FSC) said in a statement that Daewoo Shipbuilding will face bankruptcy unless fresh funds are injected into the shipbuilder.
If Daewoo Shipbuilding files for bankruptcy, the FSC said it would lead to a loss of 50,000 jobs and affect about 1,300 sub-contractors.
Daewoo Shipbuilding received a 4.2 trillion won rescue package in late 2015, but it has failed to improve the shipyard's cash flows.
The shipbuilder suffered an operating loss of 1.61 trillion won (US$1.44 billion) last year following an operating loss of 2.94 trillion won in 2015.
Its net loss narrowed to 2.71 trillion won last year from a loss of 3.3 trillion won a year earlier with sales also dipping 15.1 percent on-year to reach 12.74 trillion won, it said.
The pending and sticky problem facing Daewoo Shipbuilding is how to pay off 440 billion won worth of debt due next month. It has to refinance or pay off a total of 940 billion won worth of debt this year and 550 billion won next year.
Daewoo Shipbuilding is expected to face gloomy earnings this year because of its heavy reliance on offshore orders, which have dropped due to a fragile recovery in the global economy.
Shortly before the new rescue package was announced, Finance Minister Yoo Il-ho urged all stakeholders to cooperate with the government's plan.
"Creditors of Daewoo Shipbuilding have closely looked into all options, which include the company's backlogs," Yoo told a ministerial-level meeting on corporate restructuring.

"If all interested parties, including policy lenders and private creditors, agree to fully share the burden, the government will inject capital in a timely manner."
Trading of Daewoo Shipbuilding shares has been halted since last July.
Yim Jong-yong, chairman of the FSC, told reporters that financial regulators would make efforts to allow shares of Daewoo Shipbuliding to resume trading later this year.
If Daewoo Shipbuilding improves its financial health by reducing its debt-to-equity ratio, currently standing at about 2,700 percent, Yim said shares of the shipbuilder could be traded in the second half.
Even though bondholders agreed to the debt-for-equity swap, they can't sell the new shares with the halt in place.
The latest liquidity crisis at Daewoo Shipbuilding comes at a sensitive time as South Korea is set to hold a snap election in May to elect a president after former President Park Geun-hye was ousted over a corruption and influence-peddling scandal.
Still, analysts warned that it will be a tough road ahead before Daewoo Shipbuilding receives fresh funds.
Daewoo Shipbuilding plans to hold meetings of its bondholders on April 17-18, but getting an agreement from them for the debt-for-equity swap may not be easy.
Lee Dong-geol, chairman of Korea Development Bank, told reporters that the ultimate goal of creditors is to sell Daewoo Shipbuilding after its financial health is normalized.
Citing an estimate of an accounting firm, Lee said Daewoo Shipbuilding will face a liquidity shortage of 5.1 trillion won next year, with some of its debts maturing next month.
"Unless special and comprehensive measures are taken, Daewoo Shipbuilding will go bankrupt in April," Lee said.
Lee admitted that creditors failed to make an accurate assessment when it announced the 2015 rescue package.
At that time, creditors had expected to Daewoo Shipbuilding to achieve an order target of $11.5 billion in 2016, but the shipbuilder got orders worth only $1.5 billion last year, Lee said.
Source: Yonhap