The upgrade program of the vessel, contracted to Damen Shiprepair at Schiedam, will result in increased capabilities of the vessel with respect to loading capacity, accommodation and crane capacity. This is achieved by the installation of sponsons, strengthening deck, enlarged spud cans and a new accommodation module with helideck.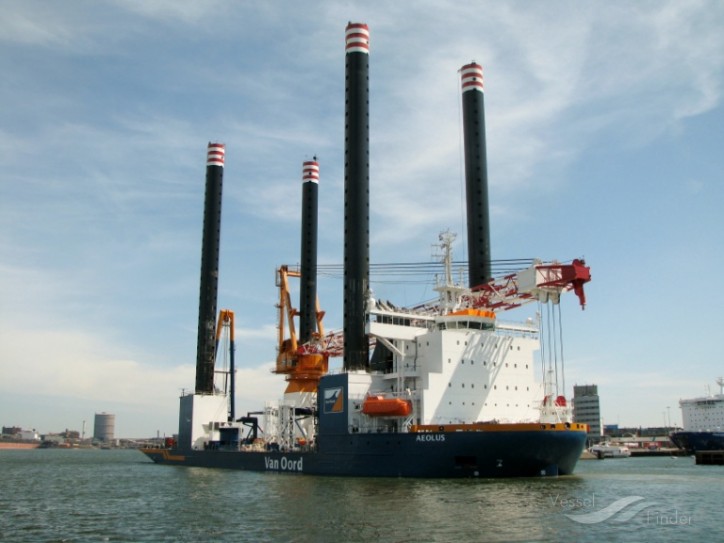 Offshore Support Vessel Aeolus - Image courtesy of Arie Ros
Furthermore, the existing 900 tonnes crane will be replaced by a 1,600 tonnes LEC (Leg Encircling Crane). This capacity increase of the vessel will enable Van Oord to continue to install increasingly larger foundations and heavier turbines at offshore wind farms.
The work on the adjustments starts in September 2017.
The upgraded vessel will be operational in spring 2018 and will then have the biggest heavy-lift crane in its class. The new crane has been ordered from Huisman, a heavy installation equipment specialist based in Schiedam/Rotterdam.
The Aeolus was previously active in offshore wind projects Gemini and Luchterduinen and will take on new projects after her upgrade like offshore wind-farm Borssele 3 & 4 in the Netherlands and Norther in Belgium.
The modification plans of the Aeolus fit in the strategy of Van Oord which is aimed to deliver innovative solutions to the offshore wind industry. In addition, Van Oord is responding to the rapidly growing and changing offshore wind industry. As partner of the Dutch TransitionCoalition Van Oord aims to accelerate the energy transition according to the call of the European Union for cutting greenhouse gas emissions by at least 40 percent before 2030.
Source: Van Oord