OPDR, as part of the CMA CGM Group, announced earlier today the introduction of its new POSS service. The service connects northern Continental Europe and the United Kingdom with Portugal and Southern Spain. The new link will service the Port of Seville which provides excellent hinterland connections by rail and truck to Madrid and the rest of Spain. With only four days from Andalusia to the U.K., the new POSS offers the fastest transit in the market on this link.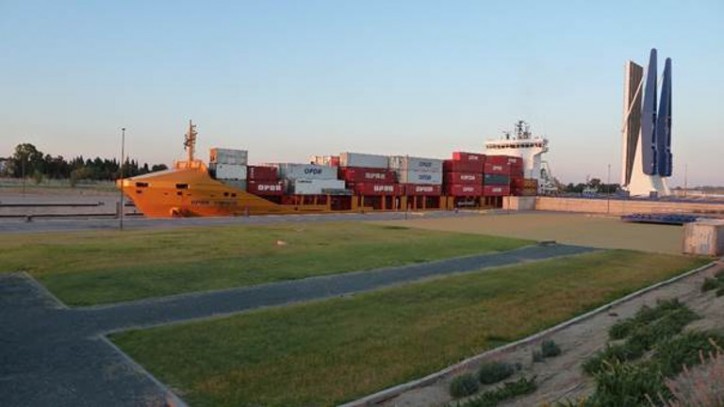 OPDR Tanger in the Port of Seville - Image courtesy of OPDR
Following the successful start of the Joint Venture between OPDR and Boluda in the Port of Seville, the short sea expert OPDR has introduced a new service. The new weekly POSS service links the English Port of Tilbury with Rotterdam, Setúbal and the south of Spain through Seville. With a transit time of only four days from Andalusia to Tilbury, this new service offers the fastest connection from Southern Spain to the United Kingdom in the market.
The Port of Seville takes a special position in the new POSS service. The inland seaport, whose container terminal is managed by OPDR and Boluda, provides an ideal hinterland connection and perfectly links Seville with Madrid by truck and rail.
Together with the established SECI service, which connects the Canary Islands with the Spanish mainland, OPDR now offers five Seville calls per week. The biggest port in Europe – the Port of Rotterdam – is linked with Seville in only seven days. Three ships are deployed in the new POSS service and will mainly carry refrigerated goods.
As usual, this service also stresses OPDR's customer-oriented approach: All ships are equipped to carry pallet-wide equipment and therefore enable customers to ship more goods per container.
Port rotation POSS: Tilbury – Rotterdam – Setúbal – Algeciras – Seville – Cartagena – Huelva – Tilbury
Source: OPDR