Van Oord's new trailing suction hopper dredger, the Vox Amalia, has been successfully launched at the LaNaval shipyard in Bilbao, Spain. This vessel is the first of two new midsize trailing suction hopper dredgers for Van Oord. Its twin, the Vox Alexia, will be completed early next year.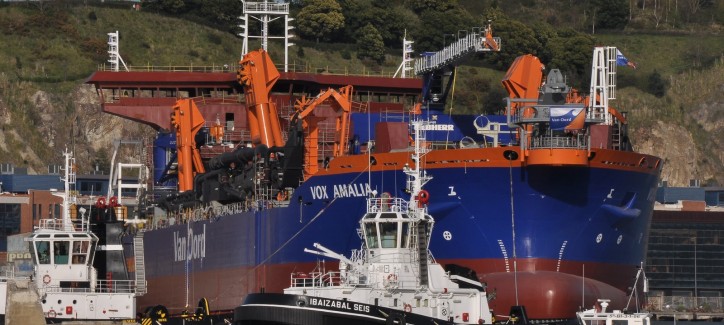 Trailing Suction Hopper Dredger Vox Amalia at the LaNaval shipyard in Bilbao, Spain - Image courtesy of Van Oord
"These two vessels are designed for capital dredging, coastal works and dredging of trenches for pipe and cable routes for offshore installations such as wind farms. Van Oord will deploy the new hopper dredger to create new ports or enlarge existing ports for better access for container shipment," said Gerard Alkema, Project Manager Plant Design & Construction at Van Oord.
The vessels contribute to the further modernisation of Van Oord's fleet and therefore mark the start of a new generation of trailing suction hopper dredgers. The focus is on energy efficiency to reduce carbon footprint and to build them according the latest technical specifications.
The dredgers have a hopper volume of approximately 18,000 cubic metres and are equipped with two suction pipes with submerged e-driven dredge pumps, two shore discharge dredge pumps, and six bottom doors. Each vessel is 158 metres by 36 metres and can accommodate 38 persons. The order for the ships is in line with Van Oord's continuous investment programme.
Source: Van Oord