Search efforts for 22 crew members of a South Korean cargo ship that apparently sank in the South Atlantic on Friday (Mar 31, 2017) are making little headway after two sailors were rescued Saturday, a Korea's government official said Monday.
The search for the missing South Korean ship, the Stellar Daisy, began Saturday, one day after the ship's crew sent a text to their South Korean employer, saying their ship was taking on water. The Marshall Islands-flagged ship, carrying eight South Korean and 16 Filipino sailors, was sailing off Uruguay when it made the distress call, according to South Korea's foreign ministry.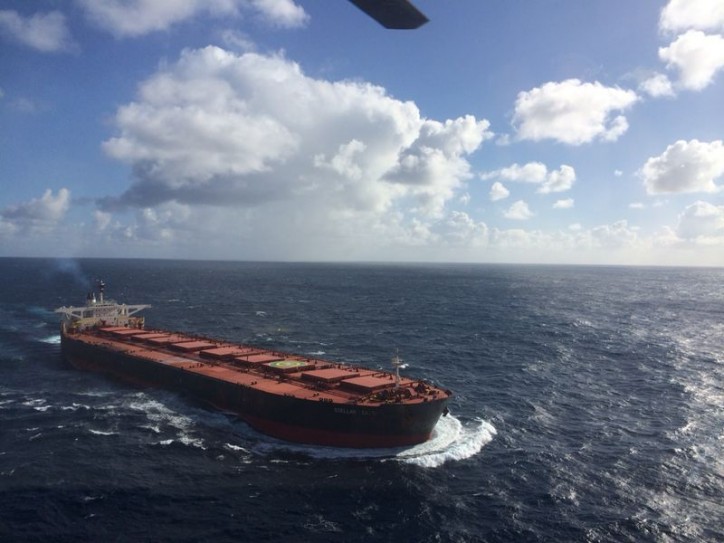 Dispatched by the Brazilian government, a C-130 aircraft of the Brazilian Air Force on Sunday searched inside a 500-kilometer radius area, including the scene and a point where the two Filipino crew were picked up in a raft, but it detected only fuel and debris believed to have come from the ship without finding other missing sailors, the official said.
The government will have a Brazilian Navy's destroyer and merchant ships of Polaris Shipping, the crew members' South Korean employer continue the search and rescue operation.
The Brazilian destroyer equipped with a rescue helicopter is expected to reach the scene as early as Tuesday, with Polaris Shipping's three merchant ships to arrive by early Tuesday.
The 266,000-ton Stella Daisy with 260,000 tons of ore loaded, departed a port in Brazil on March 26 for China. The very large ore carrier is believed to have sunk on Friday after a water ingress.
Source: Yonhap