Sole American LNG Exporter Shipped to 18 Countries on Five Continents in One Year
Cheniere Energy Partners, L.P. (NYSE MKT: CQP), a subsidiary of Cheniere Energy, Inc. (NYSE MKT: LNG), yesterday announced that the 100th cargo of liquefied natural gas (LNG) has left the company's Sabine Pass liquefaction facility, marking a significant milestone in Cheniere's ramp-up of LNG operations.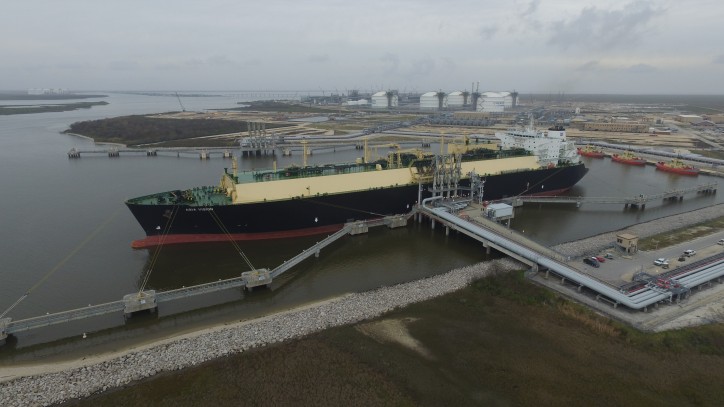 Loading of the first commissioning cargo at the Sabine Pass LNG Terminal, February 2016 - Image courtesy of Cheniere
Including the 100th cargo, which departed on Saturday from the Sabine Pass liquefaction facility, since the first shipment on February 24, 2016, Cheniere has delivered cargoes to 18 countries on five continents.
"This milestone for Cheniere is a testament to the global demand for American LNG, the hard work and dedication of Cheniere's workforce, and our unique business model that enables customers large and small to access this fuel," said Jack Fusco, Cheniere's President and CEO. "Our entire workforce shares in this milestone and in Cheniere's future success."
In February 2016, Cheniere became the first company to ship LNG from the contiguous United States in over 50 years, and is currently the only exporter of U.S. LNG. In addition to three fully-operational LNG trains at Sabine Pass, train four has entered the commissioning process and is expected to reach substantial completion in the second half of 2017. Train five is currently under construction, and is expected to become operational in 2019, and train six is fully permitted and being commercialized. In addition, Cheniere Energy currently has two trains under construction at its liquefaction project near Corpus Christi, Texas with operations at both trains expected to begin in 2019.
Across the liquefaction projects at Sabine Pass and Corpus Christi, Cheniere and its subsidiaries are expected to invest approximately $30 billion in U.S. energy infrastructure, create tens of thousands of jobs, promote domestic energy production, and reduce our trade deficit.
Cheniere's unique business model provides a full-service LNG offering to customers worldwide, which includes acquiring, transporting, and processing pipeline gas, and providing LNG to customers either at the tailgate of the LNG terminal, or on a delivered basis to markets around the world.
Source: Cheniere