Both exhibitors at Gastech from 4 to 7 April 2017, GTT and Lloyd's Register (LR) have joined their respective teams to present to maritime industry professionals the new GTT LPG containment system. On this occasion, a ceremony has been organised at LR's booth, number 13-025, where the classification society awarded GTT General Approval of the technology MARS.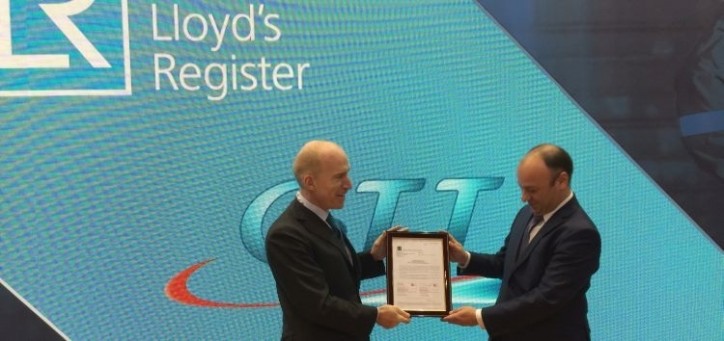 Philippe Berterottiere (left) celebrates with LR gas-technology strategic market manager Leo Karistios
The launch of GTT's own LPG technology is a milestone in the history of the LPG transportation industry. GTT can now demonstrate to the LPG industry its know-how in designing containment systems for liquefied gases. Expert in LNG, the company is already well-known for its capacity to meet the gas and maritime industry requirements. With more than 50 years of experience in multi-gas ship storage, GTT is now convinced the LPG industry is ready to welcome a new membrane solution.
GTT MARS is based on the traditional sea-proven containment systems of the company to transport liquids at -55°C or above with densities up to 700 kg/m3. The technology uses the corrugated stainless steel membrane from Mark III supported by plywood boxes filled with glass wool. GTT MARS is therefore quite simple and allows LPG vessels to transport more liquid than competitive technologies, as well as having a lower heat capacity than other systems.
Philippe Berterottière, Chairman and CEO of GTT declared "The LPG industry, thanks to the GTT MARS technology, will be able to benefit from a more optimized containment technology allowing the transport of more cargo and shorter cooling down and warming up times than the other systems. GTT is particularly thankful to Lloyd's Register to having accompanied our company in the success of this project development".

During the award ceremony, LR's Gas Technology Strategic Market Manager, Leo Karistios, commented, "LR is very pleased to have been supporting GTT's move into LPG containment systems. GTT MARS is a membrane technology with great potential for LPG project ship application. We have been working with GTT since December 2015, and today we have achieved a significant milestone for the full assessment of GTT MARS."
Source: GTT