APM Terminals Lazaro Cardenas, Latin America's largest semi-automated terminal, will offer a new gateway for trade between Mexico, a core growth market, and the rest of the world.
The President of Mexico Enrique Peña Nieto, joined by the Prime Minister of Denmark Lars Løkke Rasmussen, Tuesday inaugurated APM Terminals Lazaro Cardenas, Latin America's most technologically-advanced container terminal, with the capacity to receive the world's largest ships and contribute significantly to Mexico's future trade growth. The terminal represents an investment of more than US$900 million.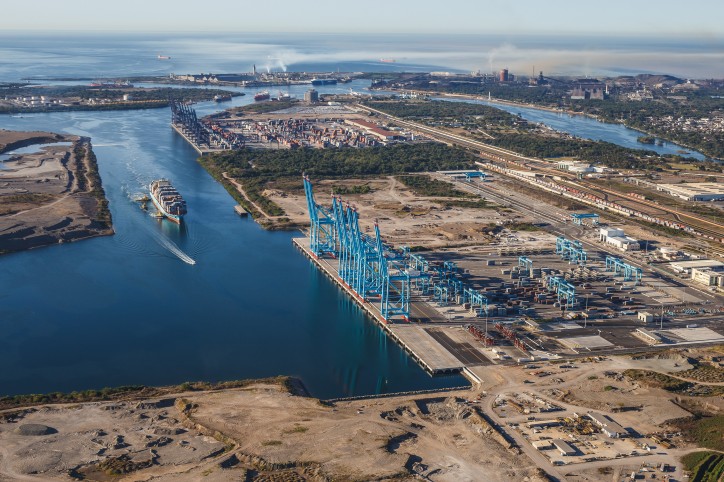 APM Terminals Lazaro Cardenas, Latin America's largest semi-automated terminal - Image courtesy of APM Terminals
Among the thousand guests participating in the event, was the Constitutional Governor of Michoacan State, Silvano Aureoles Conejo. The ceremony marked the official opening of the deep-water terminal with an annual throughput capacity of 1.2 million TEUs (twenty-foot-equivalent containers). At full build-out the terminal will increase annual throughput capacity to more than four million TEUs in 2030.
"Markets with strong trade alliances tend to outperform global growth and Mexico alone has signed more than 45 free trade agreements, making it one of the world's most important economies. Maersk is committed to Mexico, and across our Transport and Logistics brands, we employ more than 800 people locally," said Søren Skou, Chief Executive Officer of A.P. Møller-Maersk, one of the world's largest logistics companies.
Mexico is a core growth market for APM Terminals, part of A.P. Møller-Maersk's Transport & Logistics business unit, and the new environmentally-friendly terminal will play a key role in serving clients looking to take advantage of trade opportunities predominantly to and from Asia, and across the rest of the Americas.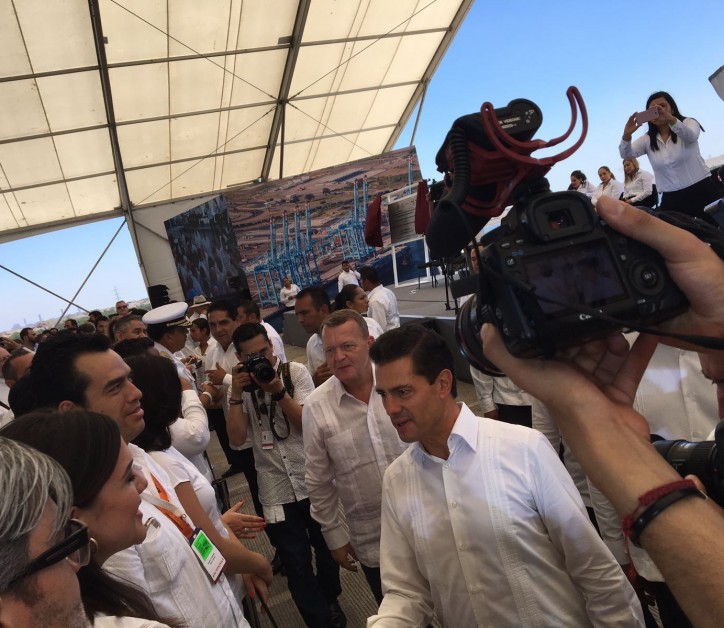 "We are working hard to make this terminal as efficient as possible for customers," said APM Terminals Chief Commercial Officer Henrik Lundgaard Pedersen. "Thanks to its semi-automated processes, APM Terminals Lazaro Cardenas will offer faster turnaround times per container as well as faster intermodal transportation via its superior on-dock rail connection. The terminal's strong geographic position on the coast and its connection with our inland terminal at Cuautitlan Izcalli in the industrial zone of Mexico City, ensures our customers have easy access to inland distribution centers and a consumer market of over 120 million people."
The terminal, which is the second terminal for APM Terminals in Mexico after APM Terminals Yucatan, is currently performing 30% above expectations in terms of container turnaround times in March, and is expected to improve operational efficiencies per container by 20%.
"The technology in this terminal will bring increased predictability and efficiency to our shipping line customers, while ensuring the highest levels of Safety for our employees and supply chain partners, contributing to Mexico's trade and growth stories as well as long-term competitiveness," said Managing Director for APM Terminals in Mexico, Jose Rueda.
The terminal received its first official vessel call on February 27, 2017 with the arrival of the 9,600 TEU capacity Maersk Salalah, on the Maersk AC2 Transpacific service from Asia.
With the first phase of the terminal complete, APM Terminals Lazaro Cardenas covers 49 hectares, with a 750-meter quay and a depth of 16.5 meters, deep enough to accommodate the latest generation of Ultra-Large Container Ships. The terminal is equipped with five intermodal rail tracks and offers automated gate services.
Mexico handled 5.66 million TEUs in 2016, behind only Brazil and Panama in Latin American port container traffic volume.
Source: APM Terminals