10 April marked the first sailing of APL's Pendulum Loop 1 (PE1) service bound for U.S. West Coast from Jakarta, Indonesia. Offered by APL as part of the OCEAN ALLIANCE, the PE1 service is the industry's first direct service from Jakarta to the United States (U.S.), transforming the sea lane for two of the world's largest economies.
"APL is extremely excited to be pioneering the PE1 service that revolutionises cargo movements between Jakarta and the U.S.. We are confident that the PE1 service will be a compelling alternative to transshipment which Indonesia relies on for shipments to the U.S. and vice versa. Combining direct connectivity and best-in-class transit, the PE1 service has just risen the bar for swift market access, particularly for Indonesian exporters," said Nicolas Sartini, APL Chief Executive Officer.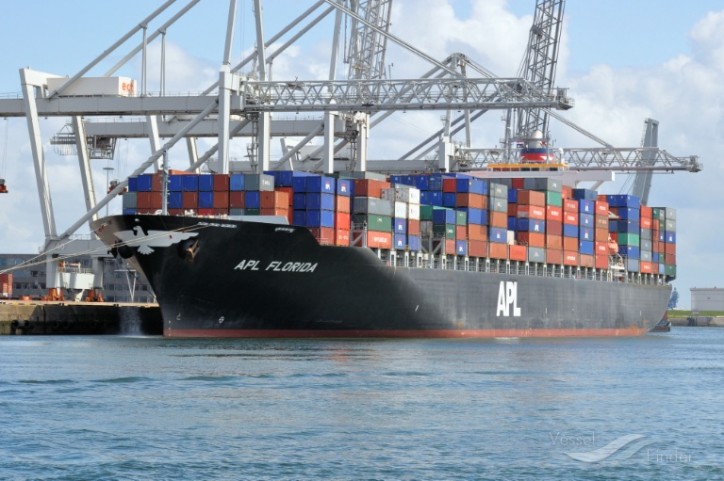 Container ship APL Florida - Image courtesy of D.Jorritsma
Boasting an extensive coverage of ports in Southeast Asia as well as the U.S. East Coast and West Coast, the PE1 service holds the industry's fastest transit time of 23 days from Jakarta to Los Angeles. Directly linking Jakarta with its top five trading partners such as Malaysia and Singapore besides the U.S., APL's PE1 service makes weekly call at Port Klang (Malaysia), Singapore, Jakarta, Laem Chabang (Thailand), Cai Mep (Vietnam), Los Angeles (U.S. West Coast), Oakland (U.S. West Coast), Hong Kong, Colombo (Sri Lanka), Halifax (Canada), New York (U.S. East Coast), Norfolk (U.S. East Coast) and Savannah (U.S. East Coast).
Accounting for 16% of the outbound volumes from Indonesia to the U.S. in 2016, APL is the number one ocean carrier of the Indonesia-U.S. trade. Including the PE1 service that directly heads for the US West Coast, APL also offers 10 other services bound for the global market via the transshipment hub in Singapore.
"Indonesia is a stronghold market of APL where we have served since 2001. Today, APL is the market leader of the Indonesia-U.S. trade where we have a strong following of customers for whom we will keep delivering the extra mile. With the PE1 service, a new dimension has been added to our Trans-Pacific service network to offer the valuable proposition that our shippers have been waiting for," added Sartini.
Click for more information on the PE1 east coast and west coast service.
Source: APL