142 Calls And Up To 500,000 Cruise Passengers Expected
This year's cruise shipping season opened in Kiel on April 9th with a call by AIDAcara. Up to the middle of October 28 different cruise ships will berth in the port a total of 142 times while up to half a million passengers are expected to go ashore or embark.
The Managing Director of the Port of Kiel (SEEHAFEN KIEL GmbH & Co. KG) Dr Dirk Claus said: "We are well prepared and if the current registration situation is correct then we can expect record passenger volumes and ship sizes."

To mark the opening of the season, Captain Manuel Pannzek was given a warm welcome by Deputy City President Robert Vollborn. "I am very pleased that "AIDAcara", which is marking her 150th visit to Kiel this year, is inaugurating the latest cruise season and also that AIDA Cruises will be on hand with as many as four ships for the first time."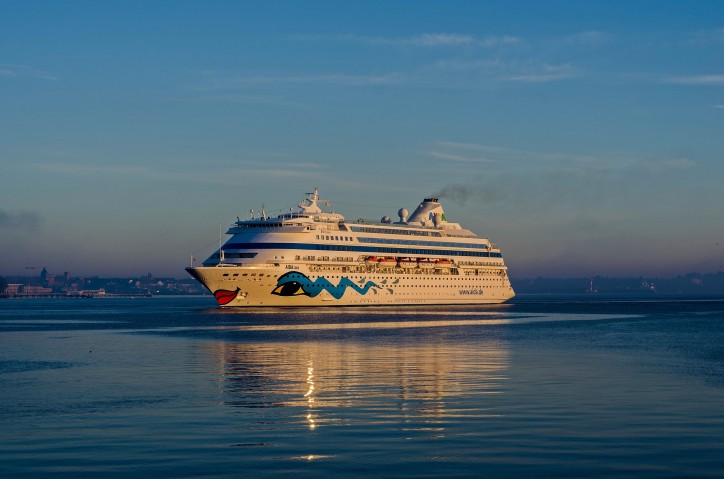 Passenger (Cruise) Ship AIDAcara - Image courtesy of Stephen Gergs
Robert Vollborn and Captain Pannzek then unveiled the foundation stone for the future "Cruise Ship Walk of Fame" which will honour ships which have special significance for the Port of Kiel as a cruise shipping hub. The first bronze plaque on the new walkway is dedicated to "AIDAcara" - the ship which, as of now, has called at Kiel the most times.
Kiel's 2017 cruise shipping season is full of highlights right from the beginning. As early as April 29th the 138,000 GT MSC Fantasia is making her first visit to the Kiel Fiord. This cruise ship, which has nearly 4,000 beds available for passengers, is undertaking 21 cruises from the Ostseekai and Ostuferhafen Terminals and is the biggest cruise ship to date with Kiel as her regular departure and destination port.
"As the base port of "MSC Fantasia", Kiel is entering a new dimension as far as ship sizes are concerned", said Dirk Claus. "Our logistics and terminal facilities are geared to ships of this size."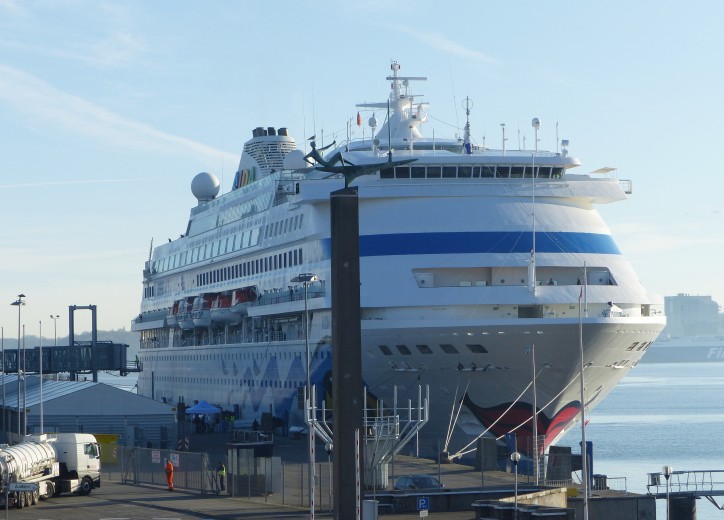 Passenger (Cruise) Ship AIDAcara - Image courtesy of Port of Kiel
A further seasonal highlight will be the maiden visit on May 11th of "Mein Schiff 6", the latest newbuilding in the fleet of TUI Cruises. Kiel will be her first German port of call and after arriving she will undertake a number of introductory trips from the Ostseekai Terminal. On June 3rd "Mein Schiff 6" starts her maiden voyage which will take her along the Norwegian fiords to the North Cape. Another ship making her first call in Kiel is the luxury cruise ship "Le Soléal", belonging to the French shipping company Ponant. She is making a stop-over in the Schleswig-Holstein state capital on a voyage to Stockholm.
The most frequent guests this season will be the AIDA ships. The owner is undertaking 52 voyages to northern European destinations from Kiel with the "AIDAcara", "AIDAvita", "AIDAluna" and the "AIDAbella". During the Kieler Woche sailing regatta between June 17th and 25th no fewer than sixteen cruise ships will visit the port, among them numerous international guests. For example, British visitors to northern Europe's biggest maritime folk festival and sailing event include Cunard Line's "Queen Elizabeth", P&O's "Arcadia" and Fred. Olsen's "Black Watch".
From an operational point of view, the PORT OF KIEL is paying particular attention this year to a total of seven dates when three or even four ocean-going cruise ships will be berthed in the port at the same time - in addition to Baltic ferries. On those peak days, up to 20,000 passengers are expected to get on or off ships inside just a few hours. In preparation for new regulations governing the disposal of waste water, a high-capacity reception facility is going into operation at the Ostseekai Terminal over the coming weeks. It will increase current acceptance capacity of 30m³/hour by tenfold.
Source: Port of Kiel