TEN Ltd (TEN) (NYSE: TNP), a leading diversified crude, product and LNG tanker operator, Tuesday announced the delivery of Sola TS, the sixth in a series of nine Aframax tankers from Daewoo Mangalia Heavy Industries built on long-term contracts to Norway's Statoil.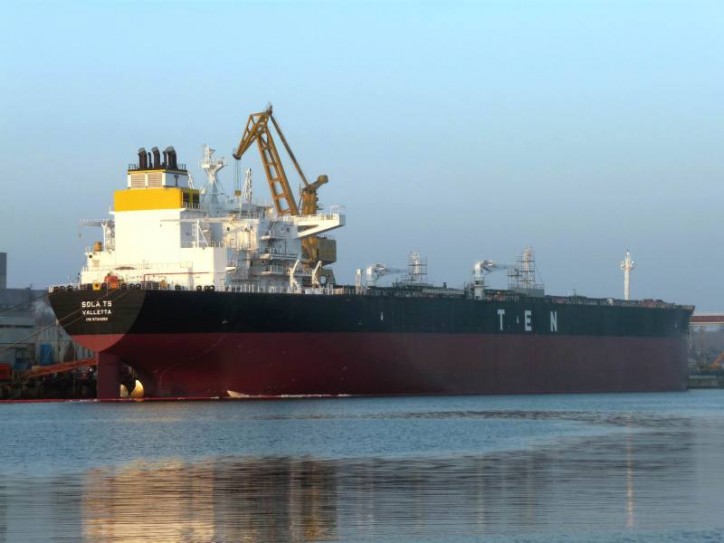 Crude Oil Tanker Sola TS - Image courtesy of Adi Man/shipspotting
In addition, the Company announced the initiation of a new strategic alliance with a major US oil company for the chartering of a series of crude tankers, primarily VLCCs and Suezmaxes, for periods of up-to three years.
"Following our tested policy of long term cooperation with significant international end users, we are proud to announce the initiation of a commercial relationship to further solidify the Company's cash flows and earnings visibility," stated Mr. George Saroglou, Chief Operating Officer of TEN.

"Such industrial alliances, attracted by the Company's operational experience over the years, assures the high utilization rate of the fleet, at well above industry averages, while enhancing our commitment to our shareholders for long term attractive returns ," Mr. Saroglou concluded.
TSAKOS ENERGY NAVIGATION (TEN), founded in 1993, is one of the first and most established public shipping companies in the world today. The Company's pro-forma fleet, including three Aframax tankers under construction, consists of 65 double-hull vessels, constituting a mix of crude tankers, product tankers and LNG carriers, totalling 7.2 million dwt. Of these, 45 vessels trade in crude, 15 in products, three are shuttle tankers and two are LNG carriers.
Source: TEN