CMA CGM subsidiary CMA Terminals & APSEZ to jointly operate container terminal 4 at Mundra Port for 15 years
As per the JV agreement, the partnership contract can be extended twice for 10 more years
Mundra Port container handling capacity rises to 5.5 million TEUs, making it India's largest container port
Construction of the container terminal 4 has been completed three months ahead of schedule
CMA CGM is world's leading shipping and logistics group
APSEZ is India's number one private port infrastructure company
CMA CGM, a leading worldwide shipping group and Adani Ports and Special Economic Zone (APSEZ), India's leading port infrastructure developer and part of the Adani Group, yesterday signed a joint venture agreement, to operate a new container terminal (CT4) at Mundra Port, for next 15 years with an option to extend it twice for 10 more years.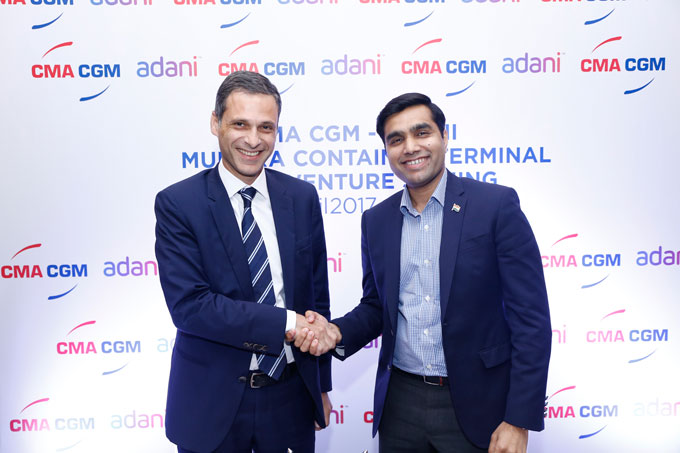 "We have been present in India for over three decades now and employ 4,000 people. This joint-venture with Adani Ports reinforces our position in one of the world's fastest growing economies and highlights our firm belief in the potential growth of trade between India and the rest of the world," said Rodolphe Saadé CMA CGM's Chief Executive Officer.
Speaking on this momentous occasion, Mr Karan Adani, CEO, APSEZ, "This is a notable milestone for us, as with the commissioning of this terminal, Mundra port will become India's largest container-handling port. This strategic partnership with CMA CGM in the Container Terminals business brings significant value to Mundra port. With this new development, Mundra port is perfectly primed to set the bar even higher on the crucial parameters of efficiency, productivity and faster turnaround times for larger vessels, which will directly translate into competitive advantages for our customers. Mundra port continues to be conscious of its environmental responsibilities and has installed world class equipment, which vastly reduces air and noise pollution."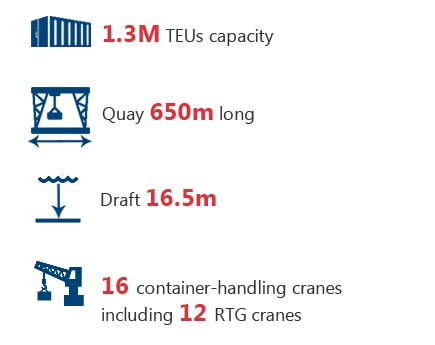 The two partners have completed the CT4 project three months ahead of schedule making Mundra Port the largest container-handling port in the country. The port was already the country's number one multi-purpose port facility. CT4 will be the only container terminal on the west coast of India where the world's largest container ships can call.
CT4 has four units of 65 tonnes capacity of Rail Mounted Quay Cranes capable of handling 18,000 TEU vessels and Super Post and Ultra Large Container Vessels and an annual capacity of 1.3 million TEUs.
The terminal spans over 27 hectares, with a 650-meter long quay and a draft of 16.5 meters. The yard equipment will include twelve 41 tonne lift rubber tyred container gantry cranes which will accommodate seven rows of containers and one operational lane.
For CMA CGM, CT4 is its first port investment in India, and demonstrates its ambition to further increase its presence in this strategic and fast-developing country. CMA CGM is present in India since 1984. With around 4,000 staff members and 29 offices, it is calling 13 ports in India, and offers to its Indian customers 11 direct weekly shipping services connecting India to Europe, Africa, North America, South America, Asia, Australia and the Middle East.
CMA CGM's investment in Mundra shows how confident the company is about the opportunities in India, where economic growth rate is expected to be one of the fastest among large economies in 2017 according to recent data from the International Monetary Fund. CMA CGM expects trade between India and the world is likely to grow and generate opportunities for exporters and importers.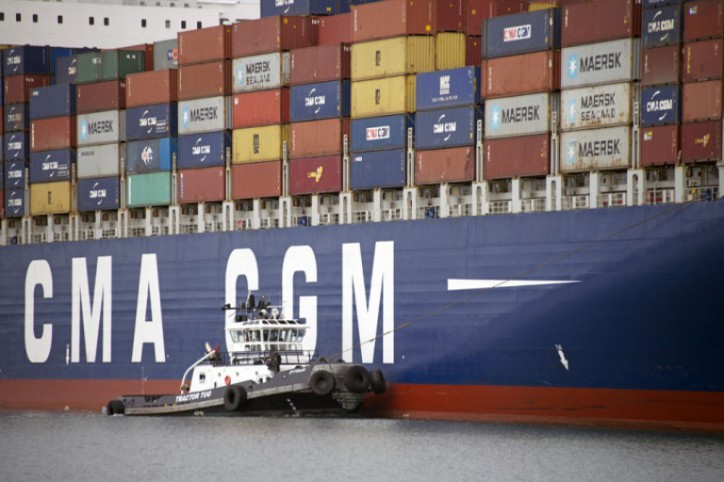 In India, CMA CGM Group offers a wide range of shipping and intermodal solutions covering accessibility to and from 51 inland locations, 6 gateway ports and 7 feeder ports in the country. The company offers connections to its port terminals through dedicated block trains and other intermodal options.
This new investment adds to the 27 container terminals that CMA CGM has today in its portfolio, and is a key step in its strategy to further expand its position in port operations.
APSEZ continues to rapidly expand its container terminals footprint across India's coastline and further augments APSEZ's existing three container handling facilities at Mundra, Hazira and Kattupalli, an under construction transhipment hub in Vizinjham in Kerala and two other under construction terminals at Ennore in Tamil Nadu and Dhamra in Odisha. It will allow Adani Ports to fulfil its stated vision of handling 200 million metric tonnes of cargo well before the year 2020.
Source: CMA CGM