A new liquefied ethylene gas carrier (LEG) was officially named on Teesside on earlier this week (April 27th).
Operated by German shipping company Hartmann Reederei and GasChem Services, the eco-friendly sea vessel will carry shipments of ethane gas from Houston in the US to SABIC's cracker at Wilton on Teesside under a long-term time charter.
SABIC recently converted its Teesside cracker (Olefins plant) during an investment to enable it to take ethane gas alongside other feedstocks.
Next to the modification of the cracker itself, the conversion project required the build of a new cryogenic ethane tank and purpose-built ships to transfer the ethane from the US Gulf Coast to the UK.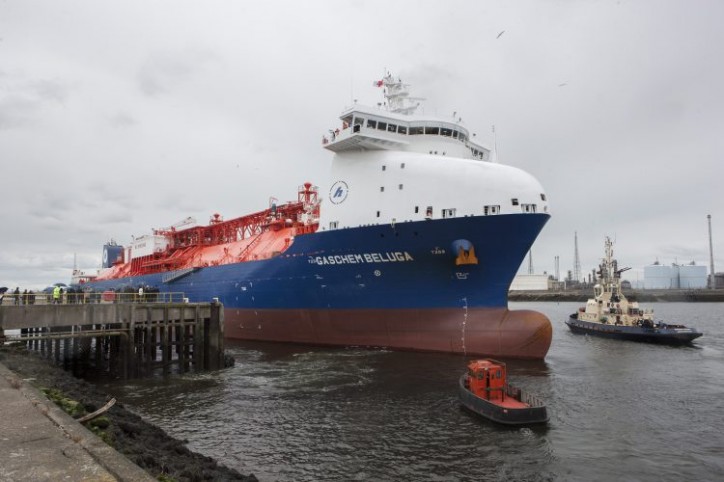 The first of these ships is the 'GasChem Beluga'. The vessel made her maiden voyage from Shanghai through the Panama Canal to Houston in December to mark the official start of the contract-hiring period.
Built in China, the ship was designed and developed specifically for SABIC by Hartmann Reederei, in cooperation with engineering consultants HB Hunte Engineering to take advantage of the ethane trade.
The ship's design focused on building an 'Eco Star' gas ship, with hydrodynamic design, high fuel efficiency, low emissions and the flexibility to use a spectrum of fuels in the engines including clean fuels such as ethane and LNG.
The design of the cargo tank allows an increase in cargo capacity by nearly 30% leading to reduced shipping costs through higher economies of scale.
The GasChem Beluga, which will be joined by a sister vessel the GasChem Orca in July, marks a new generation of semi-refrigerated ethylene/ethane carriers, designed for environmentally friendly operations with minimum emissions at a maximum of reliability and sea endurance.
The new ships, with a cargo capacity of 36,000m³, will greatly reduce emissions of nitrogen oxides, sulfur oxides and soot particles too by running engines on clean gas.
Mrs Odette Claus, the wife of Frank Claus, global director supply chain liquids, officially named the vessel at a ceremony in Teesport, which was attended by representatives and customers of SABIC and the Hartmann Group together with member of the Tees Shipping community.
Captain Alfred Hartmann, founder of the Hartmann Group, said: "We are delighted that SABIC has chosen Hartmann Reederei as a partner in the development of this new type of vessel.

"We are proud of the design, which is unique and highly efficient and to testify our commitment to a sustainable LEG-carrier which is also one of the largest in the world. Whales like Beluga and Orca symbolize a clean environment and therefore the name reflects the 'green' concept and technology of the vessels."

Frank Claus concluded: "As a responsible global company, SABIC is committed to providing high-quality, competitively priced products to its customers whilst doing all it reasonably can in order to reduce the environmental impact of its operations.

"We would like to express our appreciation to all involved, especially the Hartmann and GasChem team for joining SABIC on the journey to deliver on a truly global supply chain."

"Our UK site in Teesside is of strategic importance to SABIC and also from a global supply chain perspective. The flexible cracker project will secure the future of the Teesside site to provide continued employment for the broader community for the next few decades ahead. These innovative ships illustrate the sustainable future that SABIC wants to help to create."
Source: Bdaily