One of the finest expedition ships on the seas, the MS National Geographic Explorer, visited the Port of Ipswich on Tuesday 2 May. Having commenced its voyage, operated by Lindblad Expeditions Ltd, at the Port of Edinburgh it passed through Ipswich on the way to its final destination at Bergen, Norway.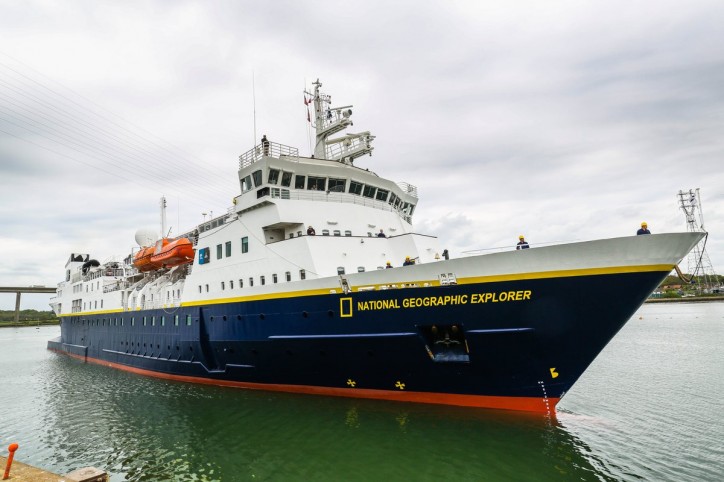 Image courtesy of ABPorts
Built in 1982, the expedition passenger ship has toured some of the planet's most remote destinations, from Norway's idyllic fjords and snow-capped mountains to the stunning icebergs of Antarctica. On Tuesday, it will be visiting the Port of Ipswich for the first time ever.
Around 120 passengers arrived on board the ship and explored the delights of the Town of Ipswich and its cultural surroundings. One of the highlights of their stay was a visit to the 255 acre ancient burial site Sutton Hoo, which houses a wealth of archaeological artefacts from Anglo-Saxon times.
Patty Disken-Cahill from Lindblad Expeditions, said: "We have chosen the Port of Ipswich as a stop-off destination due to its proximity to the ancient burial site of Sutton Hoo, which is a great local heritage attraction. With a reputation for providing excellent facilities, the staff at the port will no doubt make our stay run as smoothly as possible."

Paul Ager, ABP Divisional Port Manager – East Coast, Short Sea Ports, said: "We are very proud to be welcoming this fine expedition ship to our port and we hope its passengers will find their stay at Ipswich most enjoyable.

"Attracting cruise ships of this high calibre is important to us. That is why we are committed to the continued improvement of services at our ports, which is part of an extensive and ongoing programme of investment by ABP to keep us at the forefront of the industry."
Source: ABPorts