HHLA floating cranes handle machines weighing several tonnes at the Container Terminal Tollerort
On 1 June, a 126-tonne, a Chinese-made machine was moved between a container ship and an inland vessel at HHLA Container Terminal Tollerort (CTT).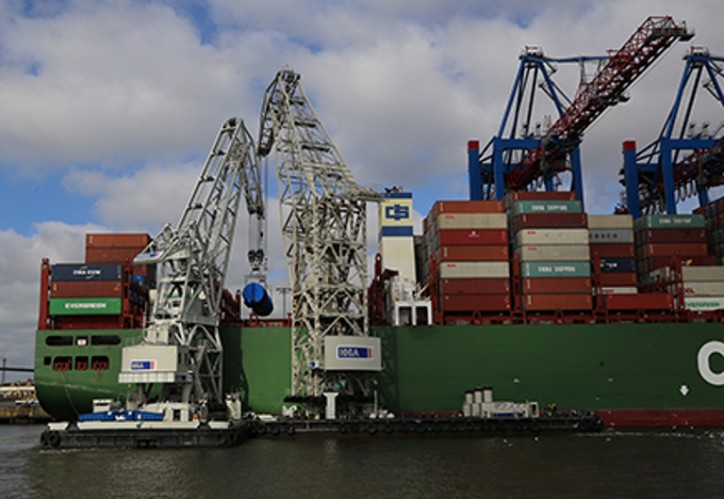 Chinese shipping company Cosco Shipping Lines delivered the package from Shanghai on the CSCL Jupiter. The rotary cooker measures 24 metres in length, has a diameter of 4.40 metres and weighs several tonnes.
The containers above the cargo hold where the package was stored were discharged the night before. Operating in tandem, both of HHLA's floating cranes could then lift the rotary cooker from the cargo hold early the next morning. To do this, they first had to double up on the towering side of the 366-metre-long container ship. The cargo was then transferred using the cranes before being lowered onto an awaiting inland vessel.
Thomas Lütje, Sales Director at HHLA: "The transhipment underpins the flexibility and level of performance at HHLA's container terminals. Our facilities are not just highly efficient specialists when it comes to container handling, we also offer impressive solutions for the transhipment of heavy goods."
The machine in question is a rotary cooker that is often used in the food industry to process grains or oilseeds. It was produced in Shanghai and loaded onto the CSCL Jupiter in the Chinese port city. The machine travelled for 37 days on board the container ship before arriving in Hamburg. It was then reloaded onto an inland vessel right next to the CTT, which will transport the cargo via the river Elbe to Melnik in the Czech Republic. From there, the rotary cooker will be transported on land to its final destination, the Czech city of Olomouc.
Source: HHLA