State-of-the-art center provides holistic systems engineering center for enhanced technical applications and industry rules advancement
ABS, a leading provider of classification and technical services to the marine and offshore industries, unveiled its Global Ship Systems Center and announced the formation of its Hellenic Technical Committee in Athens Monday.
"This cutting-edge facility brings together industry-recognized technical leaders to support clients throughout the entire lifecycle of their assets," said ABS Chairman, President and CEO Christopher J. Wiernicki. "Leveraging our global technology leadership to assemble one of the most advanced technology centers in Greece only strengthens our Rule development and advisory to the industry globally, and we are honored to establish such a credentialed Technical Committee here in direct support of these efforts."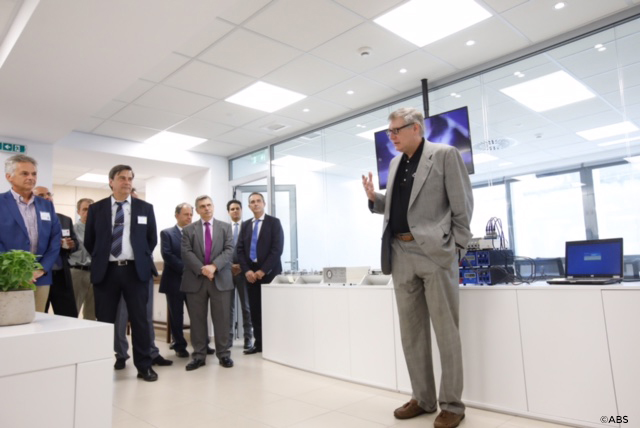 Through a systems-based approach, the Global Ship Systems Center addresses the increasing complexity of mechanical and cyber-enabled systems onboard vessels. As these systems are increasingly interconnected and optimized, a more advanced approach to address design and construction is required.
"As vessel system complexity evolves, so must the industry's rules and guidance to fully support a systems-based approach," said ABS Executive Vice President for Global Marine Dr. Kirsi Tikka. "Our commitment to set standards for safety and excellence as one of the world's leading classification organizations is based on the rules and standards we develop and refine, and the global industry experience and input from our Technical Committee members in Greece is invaluable."
Led by Dr. Elias Kariambas, Director of the ABS Global Ship Systems Center, the ABS team already is leading nearly 40 projects covering topics such as ABS CyberSafety®, shafting and propulsion, LNG as fuel, control and automation, engine operations and maintenance, vessel performance, and emission controls, among others. The team collaborates with clients on innovative projects ranging from applications of advanced analysis on design, construction and operations to techno-economic evaluations of regulatory compliance options.
Aligning with local and world-leading universities and research centers, the ABS Global Ship Systems Center will offer a premier research and development capability to help address today's industry issues while determining tomorrow's solutions.
In support of the Global Ship Systems Center, ABS assembled its Hellenic Technical Committee to actively participate in the development and updating of standards used in the design, construction and surveys of vessels, other marine and offshore structures and a host of specialized systems.
Dr. Christopher Leontopoulos, ABS Technology Manager, will chair the Hellenic Technical Committee which is comprised of more than 20 key technical professionals in the maritime industry, representing owners, operators and owner associations. The Committee brings together ABS and industry leaders to discuss pertinent technical industry issues and developments. The meetings are an important part of an ongoing dialogue with industry to improve and enhance the ABS Rules and guidance globally.
Source: ABS