Brittany Ferries has firmed up an order with German shipbuilder Flensburger Schiffbau-Gesellschaft for what will be the first LNG-fueled ferry in cross-Channel service.
To be named Honfleur, she will be delivered in 2019 and will operate on the company's busiest route, from Portsmouth, U.K., to Caen, France.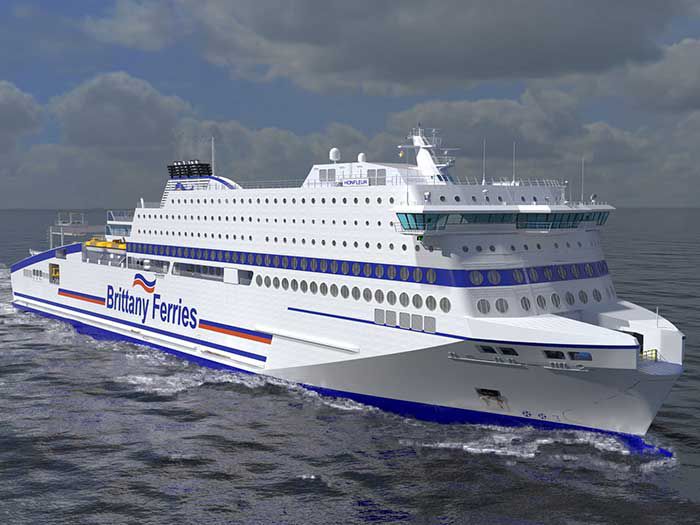 She will have 2,600 lane meters of vehicle capacity, carry up to 1,680 passengers and will come with 257 cabins, two cinemas, restaurants, boutique shopping and expansive passenger lounges.
Honfleur will operate alongside Brittany Ferries' Mont St Michel on three daily return sailings. Normandie, the cruise-ferry she replaces, will move east to serve the Portsmouth to Le Havre route.
Jean-Marc Roué, Brittany Ferries president said: "The significant investment we are making reflects our on-going commitment to developing the regions in which we operate, to linking people and to reducing the environmental impact of our ships. Despite the challenges of Brexit we remain confident in the future and our first new ship since the delivery of Armorique in 2009, with a budget of around UKP 175 million underlines this resolve."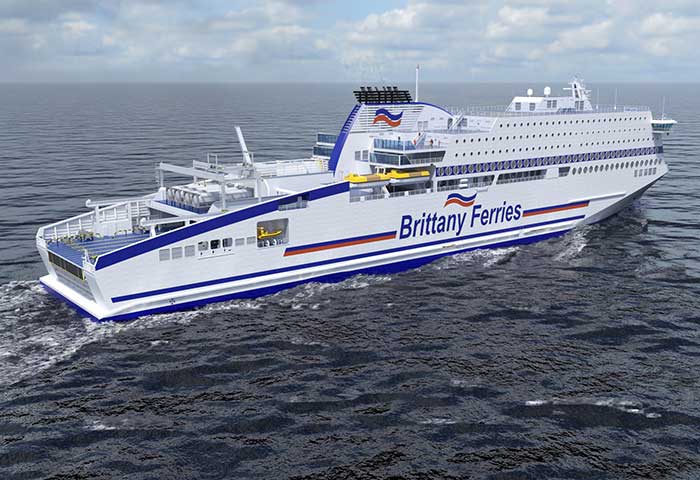 Brittany Ferries says the Honfleur marks the next step in its drive towards the future of sustainable transport. The move to LNG follows a EUR 90 million investment that has seen six of its vessels rerofitted with exhaust gas scubbers over the last 18 months, in a project supported by around UKP5 million in joint funding from the EU and its executive agency INEA – and the ADEME in France.
Power delivery will also be very different to other ferries in the fleet. Powered by LNG, Honfleur's four main engines will feed electric generators and two electric shaft propulsion motors with two fixed pitch efficient propellers.
To address the issues of LNG infrastructure, specifically the lack of storage facilities in ports served by ships, Brittany Ferries has partnered with Total for an innovative delivery solution in France.
Honfleur will be the first passenger ship in the world to be equipped with onboard cranes that allow 40 feet (ISO standard) LNG containers to be lifted into a fixed position.
The containers will be transported by truck from an LNG terminal to Ouistreham and then driven on board. They will then be hoisted into position alongside a fixed LNG storage tank located at the rear of the superstructure. Upon the next call at port, empty containers will be removed and replenished with full units.
Technical specifications:
Length 187.4 m
Breadth 31 m
Max draft 6.6 m
Tonnage 42,400 gross tonnes
Speed 22 knots
Decks 11
Passengers 1,680
Passenger cabins 257
Passenger areas 5,200 sq.m
Vehicle capacity 2,600 lane m (130 freight trailers, or 550 cars and 64 freight trailers)
Source: Brittany Ferries