The largest inland waterway craft that the Elbe Lateral Canal can accommodate is now regularly sailing as an express vessel on a shuttle service between Braunschweig and Hamburg. The newbuild MV 'Hanse' covers the 179-kilometre route in a transit time of less than 24 hours.
"That is roughly as fast as a truck," says Heiko Tominski, Sales Manager for Deutsche Binnenreederei (DBR) in Hamburg, for which the MV 'Hanse' is operating, "and what's more, by comparison with a truck our ship produces much less CO2."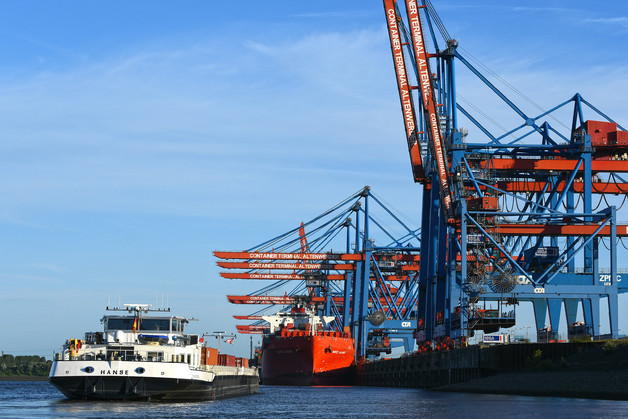 During her first call in Hamburg, the new inland waterway ship was cleared at all three terminals run by Hamburger Hafen and Logistik AG (HHLA): Altenwerder, Tollerort and Burchardkai. If required, she can also serve other terminals. Altogether, with HHLA the MV 'Hanse' discharged 93 containers and loaded 96.
Thomas Lütje, HHLA's Director of Sales & Marketing, commented that "Regular shipments by inland waterway craft boost the capacity of the Port of Hamburg, since they relieve roads and bridges of truck services. In addition, our customers can arrange their transport chain to be more ecological, for the ship now deployed is notable for her brilliant environmental footprint."
The MV 'Hanse' was built at the Kötter shipyard in Haren and delivered to private owner/operator Henning Jahn in June. With a length of 100 metres and a breadth of 11.45 metres, she is one of the 'Scharnebeck-Max' ships. The push-tows so far deployed needed to be separated at the Scharnebeck Ship Lifts and handled in two parts. A time-consuming procedure that is not required with the MV 'Hanse'. As one vessel, she substantially reduces time spent in the locks, and hence transit time.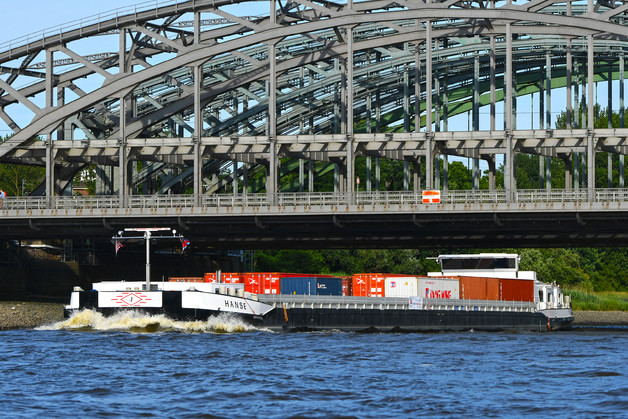 On the Hamburg-Braunschweig section, the MV 'Hanse' stacks boxes in two layers, permitting her to transport a total of 96 standard containers (TEU). That means that for every voyage, an average of 60 truck runs are saved and fuel and CO2 emissions are reduced by two-thirds in comparison to truck transport. In addition, this state-of-the-art inland waterway ship consumes innovative GTL (Gas to Liquids) fuel that is especially low-soot.
DBR is deploying this environment-friendly express ship on the Hamburg-Braunschweig route in addition to the existing five sailings a week by its push-tows. Tominski comments: "By expanding our transport capacities and sailing frequencies we are reacting to rising demand for container shipment by inland waterway ship." With the inclusion of the MV 'Hanse' in its timetable, DBR now offers between six and seven sailings a week in both directions. Additional ports such as Hanover are also served regularly. "To meet demand we also deploy the MV 'Hanse' there as a reinforcement."
Source: Port of Hamburg