Saint-Petersburg, Russia based Sredne-Nevsky Shipyard (NSSZ, a subsidiary of the United Shipbuilding Corporation) has commenced outfitting of the second minesweeper Ivan Antonov of Project 12700 being built for Russian Navy and scheduled for delivery in 2018. Work includes forming of the first tire of superstructure, outfitting, loading and installation of main equipment, the shipbuilding company said in a press release.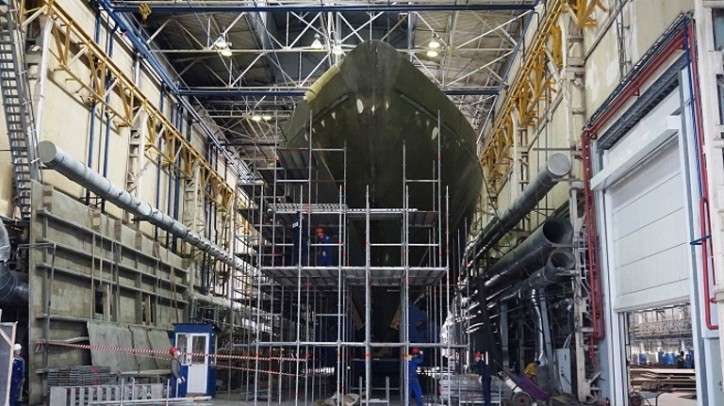 Keel-laying ceremony for the second serial minesweeper Ivan Antonov was held January 25, 2017. Launching of the ship is scheduled for 2018, followed by dock-side trials, shipbuilder's and state acceptance sea trials.
The head-ship of the series "Alexander Obukhov", built and handed over to the customer in 2016, already performs tasks in the Navy. Two more production ships are being built. Until the end of 2017, the plant plans to lay the fourth in the series (the fifth in a row) ship MIP for the Russian Navy.
The history of Sredne-Nevsky Shipyard based in Saint-Petersburg dates back to 1912. Today the shipyard is a subsidiary of the Russian shipbuilding conglomerate the United Shipbuilding Corporation. The company is a leader in composite shipbuilding in Russia. The vessels are manufactured from conventional steel, composite materials, low-magnetic steel, aluminum-magnesium alloys. The shipyard has built over 500 warships and vessels of 43 designs for the Russian Navy and foreign customers.
The United Shipbuilding Corporation (USC OJSC) was set up in 2007 with 100% federal ownership. The Corporation comprises 60 companies and organizations (major shipbuilding and ship repair companies as well as leading naval architecture and marine engineering firms). Currently, USC consolidates about 80% of the domestic shipbuilding complex. The Russian market is the main focus of the shipbuilding group but it also exports its products to 20 countries worldwide.
Source: PortNews