Tahkoluoto Offshore Wind Farm is the first of its kind as the 10 x SWT-4.0-130 Siemens turbines being installed are designed to withstand the rough, cold and icy winters in Finland.
During a three-month period, Blue Water Shipping took care of the onshore logistics on the wind turbine pre-assembly site of Tahkoluoto Offshore Wind Farm project, utilizing their own special equipment and local service providers. Suomen Hyötytuuli Oy was satisfied with the professionalism, quality and safety demonstrated by the team. (Suomen Hyötytuuli Oy is a wind power production company owned by major Finnish city energy companies.)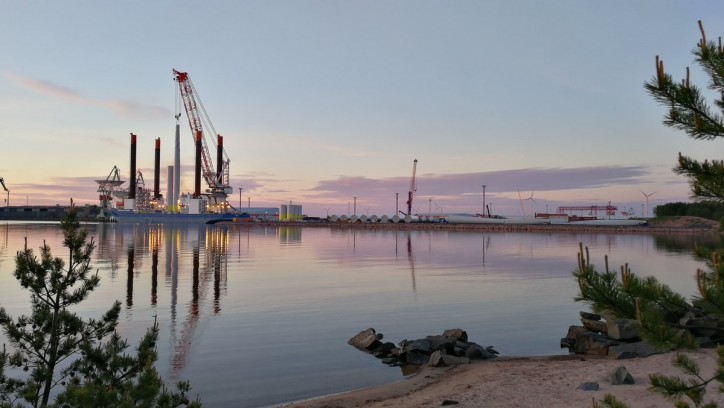 "The Blue Water Shipping team did a fantastic job with Tahkoluoto Offshore. They were willing to serve efficiently day or night, and had a positive attitude", says Xavier De Meulder, Marine Operations Manager at Suomen Hyötytuuli Oy.
Another milestone
"This is another milestone project within our mobile terminal solutions – where we provide equipment and skilled personnel in local ports worldwide - with support from our knowledge-based competence centres around the world – to ensure the proper experience, best service and solutions to offshore clients – in close cooperation with local partners."
Experts on site
On site in Finland Blue Water's responsibility included transfer of the components to storage, upending, transfer to loadout position for the jack-up installation vessel "Vole Au Vent". This was performed by our Terminal Operators and coordinated by our on-site Project Manager.
As part of delivering the complete set-up, Blue Water's Naval Engineers and HSSEQ Specialists were also involved in the project providing calculations and ensuring safety on site.
The project was completed two weeks ahead of the initial schedule.
"We are very pleased and proud to have been part of this successful project. The close cooperation between Suomen Hyötytuuli Oy and the different contractors was perfect and everybody worked towards the common goal of completing the project according to schedule and always with safety as first priority," says Rasmus Svane Nielsen, Blue Water's Project Manager on site.
The "Tahkoluoto Offshore Wind Farm" is expected to be operational later this year.
Source: Blue Water