South Korea's leading container carrier Hyundai Merchant Marine Co. (HMM) is preparing regular voyage via the Arctic sea, polar maritime passages that can drastically cut trip between Asia and Europe and become more accessible due to global warming.
The shipper is considering a trial operation from as early as 2020. A number of local logistics companies have ventured into the Arctic routes, but did not last due to lack of ships and crew expertise to navigate in the ice-packed waters.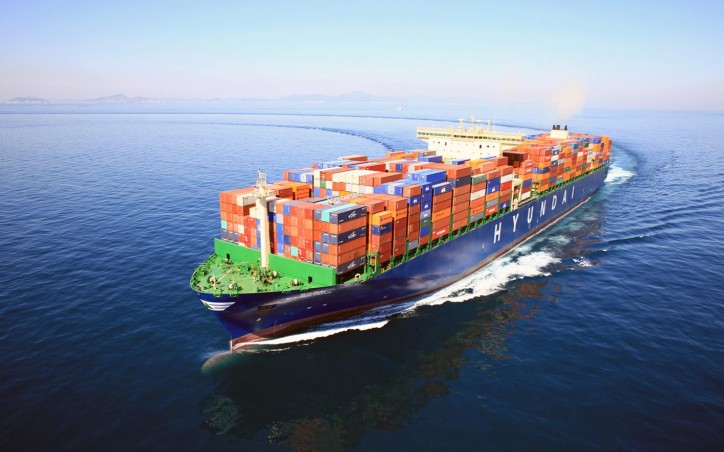 The local shipping industry believes Hyundai Merchant Marine with a heavy fleet of vessels, human resources and ample commercial infrastructure is the candidate to become Korea's first flag carrier running regular shipment via the Arctic sea route.
A market source said Hyundai Merchant Marine is planning to deploy 2,500 to 3,500 TEU (twenty-foot equivalent unit) vessels for shipment through the Arctic sea route. "A plan is being discussed to put a polar icebreaker before a commercial container vessel or use an ice-class vessel specially designed for ice navigation," the source added.
The new shipping route, the shortest maritime path linking Asia and Europe, stretches from Busan Port in Korea to the Kamchatka Peninsula in the Russian Far East to the Arctic sea and to Europe, a highly prospective alternative to the other maritime routes currently linking the two continents. Shipment can be shortened by 10 days compared with the Southern Sea Route currently used by Korean shippers.
Shipment from Busan to Rotterdam that takes 24 days can be shortened to 14 days when it is made via the polar route. The shortened pathway could help shippers save on fuel and other costs.
The route currently is available only for four months in the summer. An industry official said that ice melts faster nowadays due to global warming and voyage can become regular from 2030.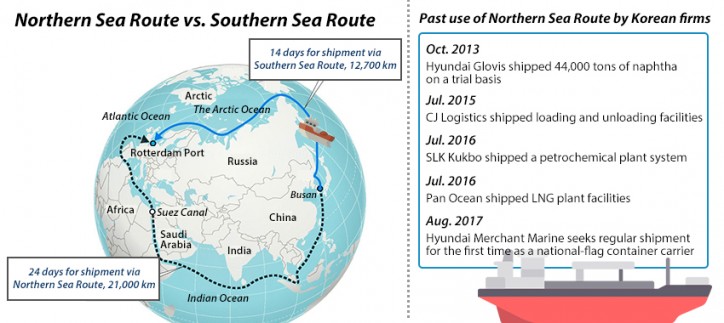 Source: Pulse