On November 11th, the last cruise ship of this year's season moored in the Port of Koper, Slovenia.
The MSC Musica was admired in Koper for the second time after its first arrival in April 2015. Owing to its considerable passenger capacity and length, it was the largest cruise ship to visit Koper in 2017.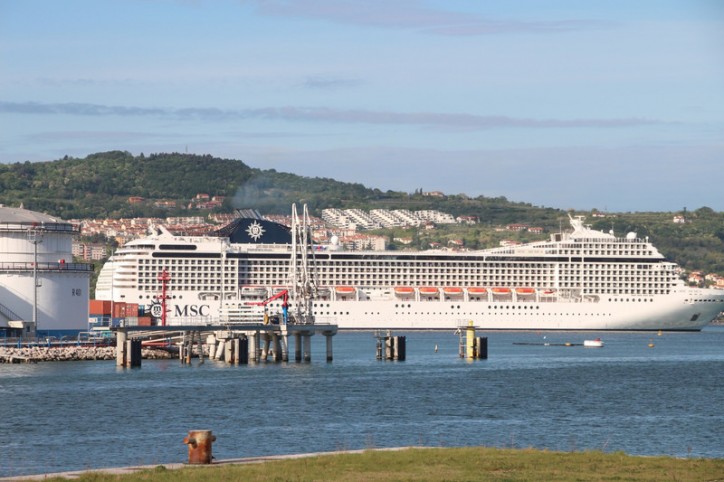 The ship was built in 2006 and christened by the popular Italian actress Sophia Loren. The MSC Musica is 294 metres long and 32 metres wide, and with its 16 decks, it is 60 metres high. The ship boasts two restaurants; a number of thematic bars; a casino; a fitness centre; a sauna; two swimming pools; basketball, volleyball and tennis courts; a football pitch; a theatre; a library; and many shops and beauty salons. This year, it brought 2,700 passengers from Zadar to Koper, assisted by a crew of 1,000.
In 2017, 61 cruise ships carrying almost 72,000 passengers moored in the Koper Passenger Terminal. In 2018, the Port expects 7 more cruise ships and 100,000 passengers.
The latest news that in the next three or four years, Venice will ban large cruise ships weighing from 55,000 to 96,000 tonnes from sailing along the Giudecca Canal, past St Mark's Square (the most visited tourist destination), is still relevant in the cruise ship industry.
In the future, large vessels will be diverted to a route which crosses the Malamocco Strait and will have to moor in the Marghera Cargo Port. Mooring at the Marittima Passenger Terminal will be possible only after the deepening of the Contorta Canal or the so-called Vittorio Emanuele Canal is completed. According to experts, the anticipated measure will not cause the arrivals of large cruise ships in the northern Adriatic to decrease, since Venice continues to be the top tourist destination. Despite the fact that giant cruise ships weighing over 96,000 tonnes are to be banned from the Giudecca Canal, passenger transport in the northern Adriatic is constantly on the increase.
Source: Luka Koper