A RECORD-breaking 2m cruise passengers visited the Port of Southampton in 2017 (see also CruiseMapper) and brought with them a massive multi-million-pound cash injection to the local economy.
Every time a cruise ship visits Southampton, it is estimated to bring a cash boost of £2m and in 2017 there more than 500 cruise calls.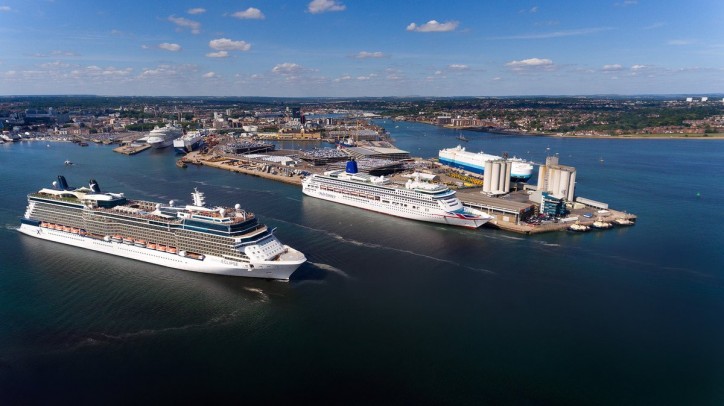 ABP Southampton Director, Alastair Welch, said: "2017 was a record-breaking year for the Port of Southampton and 2018 looks set to be even busier.

"A huge amount of work goes into ensuring all passengers transit our facilities with the greatest of ease and it is testament to our whole port community that 2m cruise passengers receive Southampton's world class service."
In 2017 the port experienced its busiest long weekend ever when 15 cruise ships visited the port in June.
And it was recognised for the ninth consecutive year as the Best UK Departure Port by Cruise Critic UK editors.
In 2018 the port can look forward to:
Eight maiden calls
A naming ceremony for Azamara Pursuit
New ships calling for the first time in Southampton will be: Aida Perla Norwegian Bliss; MSC Meraviglia; Sapphire Princess; MS Zuiderdam; Seven Seas Navigator and MS Koningsdam.
Azamara Pursuit (see CruiseMapper) will be christened in Southampton in a first for Azamara Club Cruises. The lines other two ships, Azamara Journey and Azamara Quest, missed out on an official naming ceremony as they went straight into service after their original refurbishments. Following the naming of Azamara Pursuit on 28 August, there will be a two-night celebratory cruise.
Azamara Pursuit formerly sailed for P&O Cruises as Adonia, and was acquired by Azamara in September 2017.
Azamara Chief Operating Officer Carol Cabezas said: "This ship has a very strong British heritage and it has a fantastic following here. Plus we have seen a tremendous amount of demand from the UK audience. We've never had a christening in our brand's history and we want to do that in Southampton."
On August 31 the port will experience a 6 ship day when Arcadia, Aurora, Braemar, Independence of the Seas, Mein Schiff 3 and Queen Victoria will all be alongside in Southampton. This day will showcase the diversity Southampton delivers for a range of lines and the breadth of off the cruise industry now has.
Source: ABPorts