Tensions in Middle East shipping lanes have continued to escalate after the US unilaterally pulled out of the joint comprehensive plan of action (JCPOA) nuclear treaty and reimposed sanctions on Iran.
Of late, a series of tit-for-tat measures involving tanker seizures and a diplomatic standoff between the US, UK, Iran, Russia and other states have affected commercial shipping in the region.
Beginning with suspected attacks on tankers in the Strait of Hormuz and Gulf of Oman and encompassing events in the Mediterranean surrounding seized Iranian tanker Grace 1, below is a timeline chronicling how the row is impacting tanker shipping in the Middle East Gulf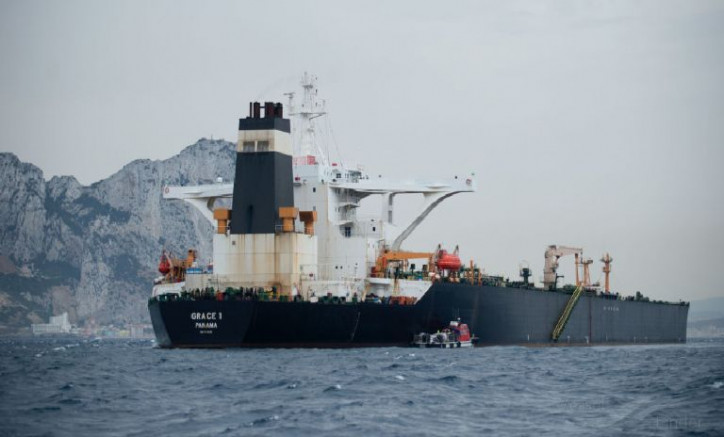 12 May: Four oil tankers suffer explosions while at anchor off the coast of Fujirah, UAE
13 June: Front Altair and Kokuka Courageous are hit by explosions in the Gulf of Oman
3 July: Gibraltar names Grace 1 in "Specified Ship Notice"
The notice requires Grace 1's detainment for up to 72 hours if the vessel enters British Gibraltar Territorial Waters (BGTW).
Grace 1 enters BGTW just after midnight on 4 July, according to AIS data. The data also shows Grace 1 delivering a cargo at Khor Fakhan in the United Arab Emirates in late January 2019, remaining at anchor there until mid-April when it was listed as "floating storage" before setting off in late May on a journey around Africa's southern tip on its way to the Mediterranean, where it arrived laden.
In the early morning hours, Gibraltar police and 30 of Britain's Royal Marines board and detain the 300,600-dwt VLCC tanker Grace 1 and its cargo.
Chief Minister of Her Majesty's Government of Gibraltar, Fabian Picardo releases a video statement laying out what he calls the "reasonable grounds" for detaining the tanker, including the belief that the tanker was carrying its cargo of crude oil to Syria's Baniyas Refinery, in breach of EU sanctions.
Spain's foreign minister Josep Borrell reportedly claims Gibraltar detained Grace 1 following a US request to Britain to seize the tanker.
Iran summons Britain's ambassador in Tehran over what Iranian foreign ministry spokesman Abbas Mousavi terms the "illegal seizure" of Grace 1.
5 July: Iran threatens British vessels
Advisor to Iranian supreme leader Ayatollah Khamanei tweets "If Britain does not release the Iranian oil tanker, it is the authorities' duty to seize a British oil tanker."
Iran accuses the UK of acting on "the order of the US" in seizing Grace 1.
Gibraltar releases a statement saying "There has been no political request at any time from any Government that the Gibraltar Government should act or not act, on one basis or another."
Gibraltar Supreme Court orders Grace 1's detention extended by a further 14 days citing "reasonable grounds" and compliance with EU sanctions against Syria.
6 July: Tanker changes course in Gulf
News reports highlight British-flagged tanker Pacific Voyager "veering" off course, but United Kingdom Maritime Trade Operations explain the tanker was "adjusting its arrival time at the next port".
7 July: Norwegian-owned tanker involved in May's incidents in Fujairah returns to Iran
After it was one of several tankers holed in incidents in the Strait of Hormuz in May, AIS data shows MR2 tanker Andrea Victory has returned, laden, to the Iranian port of Bandar Imam Khomeini.
8 July: BP oil tanker "shelters" in Middle East Gulf
News reports claim BP Shipping-operated tanker British Heritage has "cancelled" a voyage to Iraq's Basrah terminal to avoid sailing near to Iran's coast, citing unnamed sources.
Gibraltar releases a statement saying Grace 1 was detained when the vessel "freely navigated into BGTW… on a pre-arranged call for provisions and spare parts".
Gibraltar's statement says it has confirmed Grace 1 is carrying a "full load of crude oil".
Online ship data watchers spot what they believe to be a British warship or possibly two escorting British-flagged tanker Pacific Voyager on its voyage through the Strait of Hormuz.
10 July: UK military escort for British Heritage
11 July: Iranian vessels attempt to seize British tanker
BP-operated tanker British Heritage is reportedly approached by Iranian gunboats, which are seen off when British warship HMS Montrose turns its guns toward the boats.
13 July: UK Ministry of Defence (MoD) to send second warship to Gulf
Already having sent HMS Montrose to the Middle East Gulf to protect commercial trade, HMS Duncan, a Type 45 destroyer, is to be deployed with the aim of being in the Gulf region by next week.
IRNA reports the MoD and UK's ambassador to Iran saying the vessel is replacing others and not a part of any international maritime coalition proposed by the US.
13 July: UK-Iran talks offer possibility for Grace 1's release
UK Foreign Secretary Jeremy Hunt tweets that the UK would facilitate the release of Grace 1 if Iran could offer assurance the vessel was not destined to deliver its cargo to Syria.
"Just spoke to Iranian Foreign Minister Zarif. Constructive call. I reassured him our concern was destination not origin of the oil on Grace 1 and that UK would facilitate release if we received guarantees that it would not be going to Syria, following due process in [Gibraltar] courts. Was told by FM Zarif that Iran wants to resolve issue and is not seeking to escalate. Also spoke to Fabian Picardo who is doing an excellent job co-ordinating issue and shares UK perspective on the way forward."
14 July: Clean product tanker Riah disappears from AIS tracking in Strait of Hormuz
Riah, a 30-year old, 1,900-dwt bunkering tanker listed under UAE-based Prime Tankers disappears from AIS tracking near Larak Island, which lies in Iranian territorial waters in the Strait of Hormuz.
The Panamanian-flagged vessel reportedly did not send a distress call, according to Emirati officials, who deny the ship is UAE-owned.
The Iranian Foreign Ministry says Iran's Islamic Revolutionary Guard picked up an SOS signal from a foreign-flagged oil tanker in the Middle East Gulf and brought it to Iranian waters for repair.
18 July: IRGC claim to have seized an oil tanker in Strait of Hormuz
Iran's Islamic Revolutionary Guard Corps Navy says it seized a 'foreign' oil tanker on 14 July, in the Middle East Gulf with 12 crew on board, alleging that the ship was smuggling 1M litres of fuel.
18 July: Gibraltar and Iran confirm talks in London
Gibraltar's Chief Minister Fabian Picardo holds a meeting in London with Iranian officials to discuss Grace 1's detention and "to seek to de-escalate" issues surrounding the detention.
19 July: Gibraltar's Chief Minister reports on talks to UK Parliament
Chief Minister Fabian Picardo gives a statement to parliament to summarise his meeting in London with Iran's Foreign Minister Javad Zarif and other officials
"We discussed with our Iranian interlocutors matters related to the detention of Grace 1," Mr Picardo said. "At every stage, we emphasised the distinct nature of Gibraltar's jurisdiction and the independence of the Supreme Court of Gibraltar as well as the importance of the due process of law being followed in a state governed by the rule of law."
19 July: Gibraltar's Supreme Court extends Grace 1 detention
The Government of Gibraltar released a statement saying, "a private meeting of the Supreme Court on an application by the Attorney General, the Court has extended the period of detention of the vessel, Grace 1, for a further 30 days and has set a new hearing for 15 August 2019".
19 July: Iran's Islamic Revolutionary Guard board British-flagged tanker
Iran's Islamic Revolutionary Guard forces board MR2 product tanker Stena Impero.
A statement from the military force said the tanker "was confiscated by the Revolutionary Guards... for failing to respect international maritime rules".
Video posted online shows Iranian Revolutionary Guard forces rappelling from helicopters to the ship's deck in the Strait of Hormuz.
Audio from the moments leading up to the incident has also emerged, posted to the Twitter feed of security risk management firm Dryad Global. The VHF audio purports to feature an Iranian coast guard authority telling a British naval officer on board HMS Montrose, which is patrolling the area, "I want to inspect the ship for security reasons".
Stena Bulk and Northern Marine Management confirm that Stena Impero is in Iranian hands: "Stena Bulk and Northern Marine Management can confirm that at approximately 1600 BST on 19 July UK-registered vessel Stena Impero (built 2018, 49,683 dwt) was approached by unidentified small crafts and a helicopter during transit of the Strait of Hormuz while the vessel was in international waters. We are presently unable to contact the vessel which is now heading north towards Iran."
31 July: Iran's Islamic Revolutionary Guard claim to have detained another tanker
Iranian television news claims that the Islamic Revolutionary Guard forces have detained a "tanker", which it accuses of smuggling fuel to Arab countries.
Images shown on Iranian television of the detained vessel appear to show an elderly offshore support vessel (OSV), possibly a platform supply vessel, as opposed to a tanker.
The unnamed vessel was said to be carrying 700,000 litres of fuel and has purportedly been taken to a port in southern Iran.
Reports claim the vessel was Iraqi, but Iraqi authorities deny the connection.
5 August: UK joins US in 'maritime security mission' in Middle East Gulf
The UK's Ministry of Defence announces it is "reaffirming its commitment to freedom of navigation and safe passage through the Gulf by playing a leading role in a new international maritime security mission".
Royal Navy and US naval vessels will work together, drawing on "assets already in the region to increase inter-state maritime co-operation", a statement from the MoD said.
"This new co-ordinated effort will bolster the work the UK has already being undertaking to this end, including through HMS Duncan and HMS Montrose accompanying UK-flagged ships. At the same time, the Government remains committed to working with Iran to reduce the current tensions and to the Iranian nuclear deal as the best means of preventing a nuclear-armed Iran," the statement said.
5 August: Iran and Russia pledge joint naval exercises in Middle East Gulf
Iran's state-run PressTV reports Iranian Navy Rear Admiral Hossein Khanzadi saying a "classified" agreement to expand military co-operation with Russia will include joint military drills in the Middle East Gulf before the end of 2019.
6 August: Iran's president claims the Strait of Hormuz is closed to UK vessels
In a speech broadcast live on Iranian state television, president Hassan Rouhani issues a threat to UK shipping. According to translations in western media, Mr Rouhani said "Peace with Iran is the mother of all peace; war with Iran is the mother of all wars... A strait for a strait. It cannot be that the Strait of Hormuz is free for you and the Strait of Gibraltar is not free for us."
8 August: US says Iran is spoofing commercial shipping GPS in Strait of Hormuz
The US Department of Transportation's Maritime Administration (MARAD) issues a new advisory suggesting Iran is interfering with ships' GPS systems as they transit the Strait of Hormuz.
"Heightened military activity and increased political tensions in [the Middle East Gulf] region continue to pose serious threats to commercial vessels. Associated with these threats is a potential for miscalculation or misidentification that could lead to aggressive actions. Vessels operating in the [Middle East] Gulf, Strait of Hormuz, and Gulf of Oman may also encounter GPS interference, bridge-to-bridge communications spoofing, and/or other communications jamming with little to no warning," the advisory says.
11 August: Stena Bulk CEO asks Indian Prime minister to help free Stena Impero crew
Stena Bulk CEO Erik Hanell reportedly writes to Narendra Modi, asking the Indian prime minister to intervene with Iran to secure the release of the crew of detained tanker Stena Impero.
12 August: IBF names Strait of Hormuz as a Temporary Extended Risk Zone
The designation means seafarers who are subject to an attack in the zone, are entitled to a bonus and doubled death and disability compensation for casualty and injury.
13 August: Iranian official claims UK could release detained tanker Grace 1 'soon'
Iran's Deputy Head of Ports and Maritime Organization (PMO) Jalil Eslami has claimed Iran and Britain have exchanged documents that may result in the release of the VLCC Grace 1, seized in Gibraltar.
15 August: US petitions Gibraltar for seizure of Grace 1 VLCC
According to a spokesperson for the Gibraltar government, "The US Department of Justice (DOJ) has applied to seize Grace 1 [based] on a number of allegations which are now being considered."
15 August: Gibraltar's Chief Minister says Grace 1 is, legally, free to leave
Whether the vessel will resume transit, however, is not yet clear, given the US request to detain the tanker.Grace 1's captain and officers are freed.
16 August: US Federal Court issues warrant to seize Grace 1
The US DOJ said the federal US District Court for Washington, DC, has issued a seizure warrant and forfeiture complaint for Grace 1, its US$2.1M cargo of petroleum and US$995,000. Grounds for the warrant are mostly financial in nature.
A DOJ statement said "The documents allege a scheme to unlawfully access the US financial system to support illicit shipments to Syria from Iran by the Islamic Revolutionary Guard Corps, a designated foreign terrorist organisation. The scheme involves multiple parties affiliated with the IRGC, furthered by the deceptive voyages of the Grace 1. A network of front companies allegedly laundered millions of dollars in support of such shipments."
18 August: Gibraltar rejects second US request to detain Grace 1
A statement from the Gibraltrian government said it has received a 'supplemental' request for 'mutual legal assistance' from the US Government on 16 August, "providing further information in support of its application for the restraint of the departure from Gibraltar of Grace 1 and its cargo of oil, in anticipation of forfeiture proceedings to be commenced in the United States".
Gibraltar says it is unable to seek an order from its Supreme Court because of differences in EU and US sanctions, namely that US sanctions define the IRGC as a terrorist organisation, while EU sanctions do not.
18 August: Grace 1, renamed Adrian Darya 1 and reflagged under Iranian flag, sets sail
After a 45-day detention, the newly named, newly Iranian flagged Adrian Darya 1 sets sail and is underway from Gibraltar by 20:00 (8:00 pm) on 18 August, according to vessel tracking data.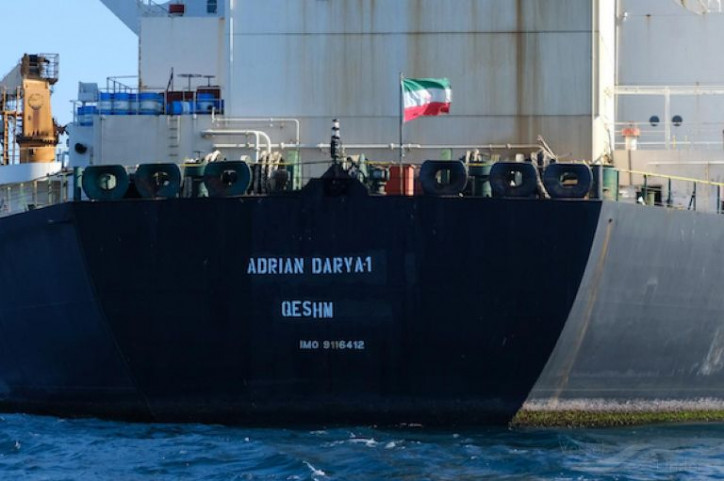 Iran has confirmed the destination of Adrian Darya 1's estimated US$140M cargo of 2.1M barrels of Iranian crude oil is not Syria and ship tracking websites list the vessel's intended port of call as Kalamata, Greece.
19 August: Iran will consider 'violations' of seized British tanker Stena Impero
Iran's official news agency IRNA reports IRGC commander Brigadier-General Alireza Tangsiri said Iran will consider what he calls 'violations' of international maritime regulations committed by UK-registered MR2 product tanker Stena Impero, which has been impounded in an Iranian port since 19 July, ostensibly at the request of Iran's Hormuzgan province's Ports and Maritime Organization.
General Tangsiri said Stena Impero had "committed three violations" for review and decision by Iran's judicial system and Ports and Maritime Organization.
Shortly after, Iran's Foreign Ministry warned the US against attempting to detain Adrian Darya 1.
20 August: US warns Greece, Mediterranean countries not to harbour Adrian Darya 1
The US State Department has warned Greece, 'all ports in the Mediterranean' and the shipping industry to steer clear of Adrian Darya 1.
A state department statement said, "We have conveyed our strong position to the Greek government on the matter, as well as all ports in the Mediterranean that should be forewarned about facilitating this vessel.

"The Iranian regime's tanker is transporting illicit oil to fuel the Iranian regime's and Syrian regime's campaigns of terror and oppression. It is important for companies, and mariners to know that any efforts to assist these tankers could be considered as providing material support to a U.S.-designated Foreign Terrorist Organization (FTO), which has immigration and potential criminal consequences."
Source: Riviera