US marshals have managed to arrest a Greek bulker that had previously broken free of its moorings on the Mississippi River, Louisiana.
The Bariba Group-owned Privocean bulker (81,434 DWT) was arrested by US marshals on the 13th of April after having damaged an oil dock, several towing vessels and a tanker.
Officials have reported that they are currently seeking damages in the rough amount of USD 40 million.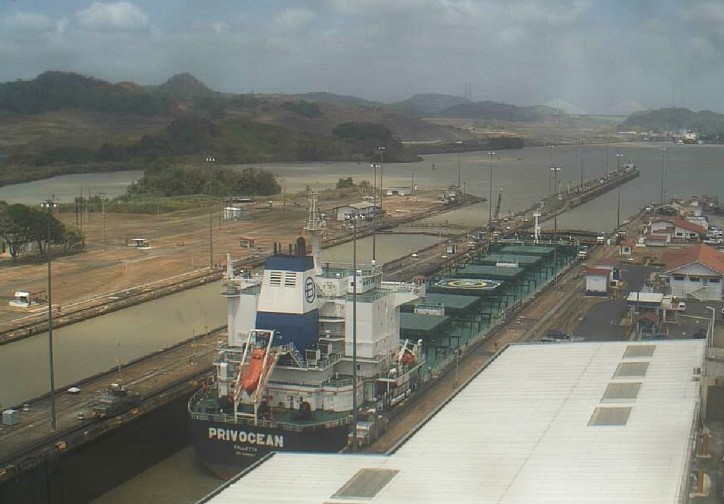 Photo of Privocean in the Panama Canal: DS Tweedie
Approximately USD 10 million are needed in order to completely repair the damaged Geden Lines-owned Bravo tanker (116,014 DWT), that sustained heavy damages on the 6th of April when Privocean managed to break free of its moorings, then crossed the river and eventually collided with the Bravo tanker.
A Crescent Towing & Salvage-owned tug was also damaged during the accident – the Texas vessel was smashed between the two above-mentioned ships during their collision. The company is currently seeking lines and measures by which to make the bulker's owners cover all damage-related costs. Crescent Towing also added that another three of its tugs also sustained damage during the incident.
Portions of oil refiner Ergon's dock, which were used by the tanker at the time for the offloading of its cargo consisting of crude oil, were totally destroyed during the course of accident. The refiner commented that no more than 10 barrels of oil were spilled into the river due to the collision of the two vessels.
On April 10th the Privocean tanker was anchored in the river downstream site right at Grandview Anchorage.
"We will most likely begin to take depositions of all of the crew members on the 16th of April, and as to the Privocean – there is a high change that it will file a limitation regarding liability action later on this current week. We have a fair share of confidence that the damages will be paid for by the tanker's owners or their P&I club," commented Robert Murphy, a lawyer representative of the tanker owners.
Related news: Bulk carrier rams two other vessels causing oil spills into Mississippi