The Singapore-registered oil product tanker Alpine Eternity, which was fired the previous week by Iranian warships, hit an Iranian oil drilling platform back in March 2015.
The patrol ships of the Iranian navy forces, which were firing at the tanker on Thursday last week in international waters off the United Arab Emirates, appeared to be trying to intercept the vessel in order to settle a legal dispute regarding this previous incident.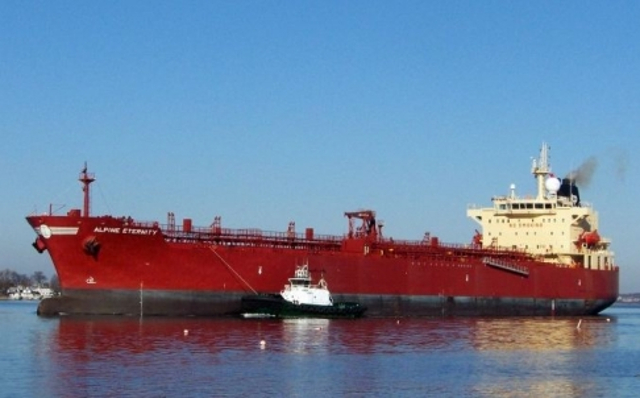 Image: Transpetrol
According to the ship's owner South Maritime Pte Ltd and manager, the Transpetrol, efforts have since been made to resolve the issue. The representatives of both companies said in a statement, that in the incident from March 21, the Alpine Eternity hit an uncharted object in the Middle East Gulf. Later the object was identified as Iranian jacket platform. The officials said that during the incident there were no reports for pollution or injured people.
The South Maritime and Transpetrol officials said that since the incident in March, there had been an ongoing dialogue between them, the insurers and the owners/drilling contractor of the offshore structure.
"Owners and managers can see no reason why the Iranian Authorities should try to seize the vessel, given the advanced state of negotiations and ongoing dialogue with the Iranian counterparts," said the officials.
Related news: Five Iranian patrol boats fire at oil tanker in Persian Gulf