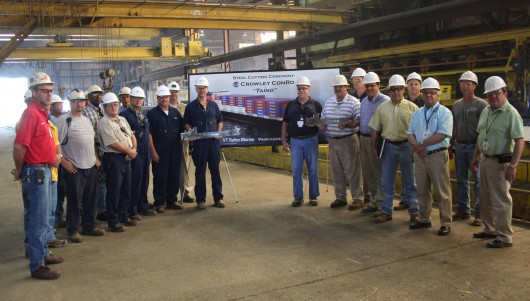 VT Halter Marine, Inc., a VT Systems, Inc. subsidiary has initiated the building process of the second of two Crowley Maritime Corp. liquefied natural gas (LNG) powered ConRo (hybrid between a Ro-Ro ship and a container carrier) vessels, the Taino.
VT Halter Marine and Crowley signed a contract for the construction of the two vessels back in November of 2013. On Thursday morning, the building of the 2nd ship was initiated with the first steel plate cutting that took place in Pascagoula, Miss.
"This is definitely one of the monumental points in the company's history and in the Commitment Class construction program," commented John Hourihan, Puerto Rico liner services' senior vice president and general manager.

"Just as our customers we have also waited with a great deal of anticipation for the building on the Taino to start, and we are looking forward to the days to come when the two vessels will begin servicing the United States and Puerto Rico. The two new ships feature all of the latest technology available, and are not only going to provide a better level of performance and safety but will also set new norms regarding eco-friendly methods of shipping."
The two Commitment Class vessels offer a design aiming to maximize the transportation of 53-foot, 102-inch wide containers, which provide the most cubic cargo capacity.
The 26,500 DWT carriers will have a length of 219.5 meters, a width of 32.3 meters and a 10-meter deep draft. Their respective cargo capacity will be in the amount of roughly 2,400 TEUs (20-foot-equivalent-units), and will also offer space for the transportation of approximately 400 vehicles via an enclosed Ro/Ro garage. Their main auxiliary and propulsion engines will be powered via the use of eco-friendly LNG. Their design is the product of Wartsila Ship Design in conjunction with Jensen Maritime, a Seattle-based Crowley subsidiary, a naval architecture and marine engineering company.
The Jones Act vessels will serve as replacement of Crowley's own towed triple-deck barge fleet, which has been providing its services since the start of the 1970s. According to schedule El Coqul and Taino should be delivered respectively in Q2 and Q4 of 2017.