It is now more than 24 hours after the ferry Eastern Star went down on the Yangtze River in China.
There have been no reports of other survivors during the last several hours and more than 400 people on board remain missing.
The Eastern Star disaster could be the worst shipping accident in China for the last 70 years. The accident may be even the worst in East Asia, since the Sewol ferry sinking in South Korea in April 2014, when 304 people died, most of them children on a school trip.
More than 200 divers are searching the capsized Chinese ship in the Yangtze River. The rescue teams worked also through the night, but up to the moment only 18 bodies have been recovered.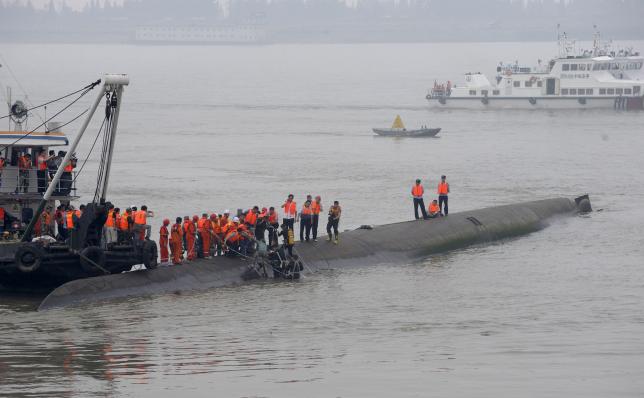 Image: China Daily
They continue to work hoping to find more survivors, even though divers are facing difficulties in passing through barriers, such as cabin doors blocked by objects from inside.
Rescuers explained that they had to work very carefully, because the rashly cutting holes in the hull could burst air pockets keeping people alive.
On board Eastern Star there were five tour guides, one was reported to be among the dead. Another one survived 10 hours in the water, despite not being able to swim. Later he gave the most detailed eyewitness account up to date of what happened.
According t ohim, the ship began to list 20 minutes after heavy rain seeped into the cabins. The rain began to pound the right side of the ship. The water continued to seep through, even when the crew shut the doors and the windows.
The passengers began taking their soaked quilts and moved into the hall, that was when the guide noticed, the ship had began to tilt. The ship listed as much as 45 degrees and shortly after overturned, sinking very rapidly.
The guide and one of his colleagues had 30 seconds only to grab a life jacket, having no time to wear it, while trying to move away from the ship. He remembered seeing around a dozen people in the water yelling for help.
According to local media, three of the bodies were found 50 km (30 miles) away near Yueyang city in the neighbour Hunan province. The search area has been expanded up to 220 km (135 miles) downstream, suggesting that many bodies could have been swept far away from where the ship sank in the Yangtze river.
The Eastern Star ferry is owned by the Chongqing Eastern Shipping Corporation, which runs tours along the Three Gorges section of the Yangtze.
The trips of all passengers on board were booked through a Shanghai-based travel agency. Angry relatives, demanding information, stormed the offices of the Xiehe Tourism Agency, asking for the official passenger list and more information about what happened with their loved ones. The local police were called in to keep peace.
Related news: Chinese ferry sinks in Yangtze river with more than 400 missing