The owner and crew of the passenger ferry m/v Kim Nirvana, which sank on July 2, causing the death of over 60 people, were ordered to stay in custody with murder charges by the Philippine police.
The criminal charges were filed late Friday before the Prosecutor's' Office in Ormoc City, where the ferry capsized, according to Chief Superintendent Asher Dolina, Eastern Visayas regional police director.
"We have already filed multiple murder charges against the owner Joge Bung Zarco, the captain, Warren Oliverio and 16 crew members for the sinking of the boat. Inquest proceedings are now ongoing," Dolina said.
The Philippine Coast Guard (PCG) is also looking into the possibility that the passenger ferry was overloaded after realizing the discrepancy between the manifest and the number of survivors and bodies recovered. The maximum capacity of the vessel according to the ship register was 194 passengers, however it was estimated that more than 204 people were onboard during the accident.
Image: japantimes
As stated by PCG head official the latest figure totaled 199, which was contrary to the passenger manifest that listed 194 people, including 178 passengers and 16 crew members.
According to survivor testimonies and an initial police investigation, it became clear that the vessel abruptly turned over in waters off the Port of Ormoc City last Thursday, causing it to capsize.
The police investigation is separate from a Coast Guard inquiry, which will primarily determine the cause of the accident. However, the Coast Guard may also recommend criminal and administrative charges.
The PCG's investigating team, who arrived at the site to get a clear picture of what happened wanted to gather more information from the ferry's Captain, his 16 crewmen and passengers of the boat.
They concluded that not only "human error," but also overloading precipitated the sea tragedy.
In their testimonies, survivors said the vessel was also transporting 80 sacks of cement as well as bags of rice cargo. Most probably the sudden change of course may have shifted the cargoes and capsized the ferry.
PCG is looking at human error as the possible cause, with reports of "faulty maneuver" by the boat's skipper amid the big waves and a choppy sea.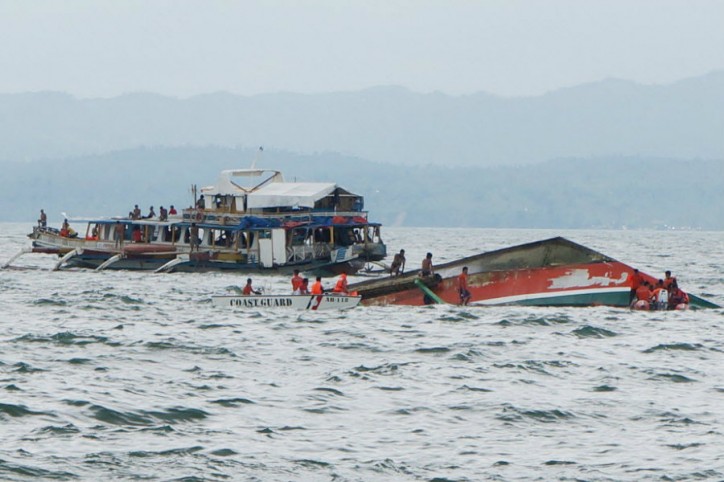 Image: SunStarPh
MV KIM Nirvana capsized shortly after leaving Port of Ormoc and more than 140 people were rescued. Two Americans were also charged with homicide charges.
Up to the moment a total of 19 people were charged and according to the Philippine law, murder is punishable by up to 40 years imprisonment.
The United Filipino Seafarers (UFS) criticized local maritime authorities for approving the design and accreditation of the ferry. The seafarers' union showed its position in an official statement released over the weekend.
The UFS representatives stated that photos of the MV Kim Nirvana were proof enough the motorized banca was not seaworthy and there was an obvious stability issue on the double deck ferry. The primary question they asked was how the vessel passed safety standards.
Related news:
Ferry carrying 173 passengers sinks in Philippines, 36 dead
UPDATE: Death toll from sunken Philippine ferry KIM Nirvana rises to 41