Indonesia, the world's biggest archipelago nation, sank 34 foreign illegal fishing boats in several places across the country on Tuesday, August 18.
The illegal fishing boats, which came from Thailand, the Philippines, Vietnam, Malaysia and four Indonesian-registered ones, were sunk as part of the commemoration of Indonesia's 70th Independence Day.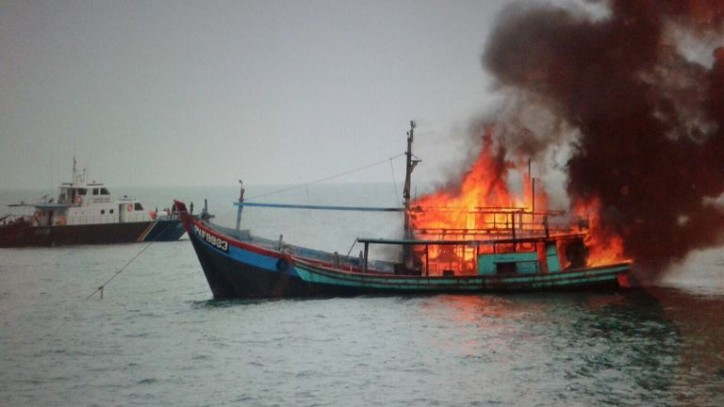 Image: Indonesia Maritime and Fishery Ministry
This was the biggest action of the Indonesian government of its kind to date, which was held to demonstrate the government's seriousness concerning the protection its territorial integrity.
In a statement after the latest sinkings, Ms Susi Pudjiastuti, the Minister for Maritime and Fisheries of Indonesia, who has a main role in the campaign to stop illegal fishing said:
"We have to be able to show that we can be triumphant on the sea because the sea is the future of our nation."
Furthermore, the Minister said that Indonesia is an archipelago whose territory comprised of two-thirds water, it must have sovereignty over its territorial waters.
All boats that Indonesian government have decided to sink had been caught fishing illegally in Indonesian territorial waters and each criminal case has passed through a judicial process.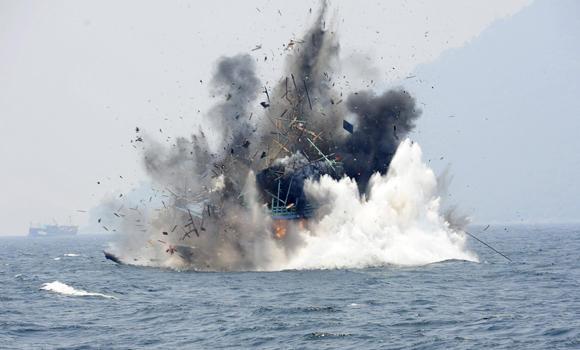 Image: Indonesia Maritime and Fishery Ministry
Asep Burhanudin, a senior official at the maritime affairs ministry said that five of the fishing boats have been blown up with dynamite while the others have been scuttled.
After expressed concerns of activists from green groups regarding the ships blowing and the impact on the marine environment, the government has decided to scuttle most of the ships instead of their overall destroying, which was a preferred method in the past.
According to Minister Burhanudin, the scuttled boats will be a prerequisite for the creation of artificial reefs, which will become a habitat for many species of fish.
Related news: Indonesia to sink 70 foreign vessels on country's Independence day