Missing cargo ship El Faro, hit by powerful Hurricane Joaquin, is believed to have sunk off the Bahamas and one presumed crew member is confirmed dead, the U.S. Coast Guard said on Monday.
It said the search continued for at least 32 other people, most of them Americans, who were aboard the ship when it vanished in what maritime experts are calling the worst cargo shipping disaster involving a U.S.-flagged vessel since 1983.
"We're assuming the vessel has sunk," Coast Guard Capt. Mark Fedor told reporters in Miami. He said search and rescue teams were no longer looking for the ship, which sent a distress call early on Thursday after getting caught in Joaquin's ferocious winds and seas up to 50 feet (15 meters) high.
Coast Guard vessels and aircrews continued to search for the 28 U.S. citizens and five Polish nationals who went missing with the ship, Fedor said.
He acknowledged they faced steep odds against survival. But officials later said three Coast Guard cutters would stay in the general area where the ship was believed to have gone down to continue searching through Monday night.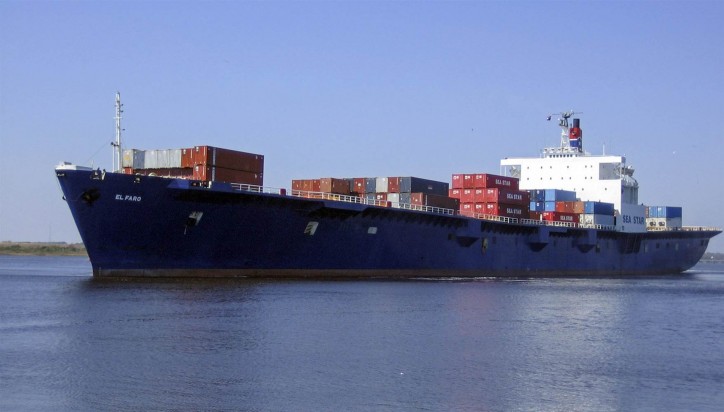 The five Poles on board were not members of the crew but part of a so-called "riding gang" to conduct repairs on the ship while it was at sea, the company that owns the ship, Tote Maritime Puerto Rico, told Reuters on Monday.
Company spokesman Mike Hanson said he was unable to specify what kinds of repairs were under way, but such ancillary crews are commonly hired to perform repairs and maintenance.
Coast Guard crews were unable to identify the one body found so far, discovered wearing a survival suit on Sunday, Fedor said. A lifeboat found among other debris from the ship was one of two that it had been carrying, each with a capacity for 43 people.
The ship was carrying 391 containers "so it had a lot of topside height to it where the winds and waves could hit it," Fedor said. There were also 294 trailers and automobiles below deck adding to its weight, he added.
The ocean where it sank is 15,000 feet (4,572 meters) deep and part of a heavily transited channel for large ships.
On Sunday, the Coast Guard spotted two large debris fields about 60 miles (96 km) apart littered with items identified as coming from El Faro, including Styrofoam, cargo doors and 55-gallon (208-liter) drums.
In a distress call on Thursday morning, El Faro said it had lost propulsion, was listing and had taken on water after sailing into the path of Joaquin off Crooked Island in the Bahamas, according to Tote Maritime Puerto Rico. It was never heard from again.
The National Transportation Safety Board will conduct an investigation, in which the Coast Guard will take part, the Coast Guard's Fedor said.
Related news: USCG found debris of missing Ro-Ro cargo ship El Faro lost in Bahamas in Hurricane Joaquin (VIDEO)
Source: Reuters.com / Susan Cooper Eastman, Barbara Liston in Jacksonville, Edward McAllister and Andrew Chung in New York; Writing by Tom Brown; Editing by James Dalgleish, Cynthia Osterman and Lisa Shumaker/