French Polynesia's renowned passenger-freighter ship, Aranui is preparing to launch a brand new ship, Aranui 5, with its maiden voyage on Dec. 12, 2015, which coincides with the Marquesas Art Festival, scheduled Dec. 16 – 19, 2015.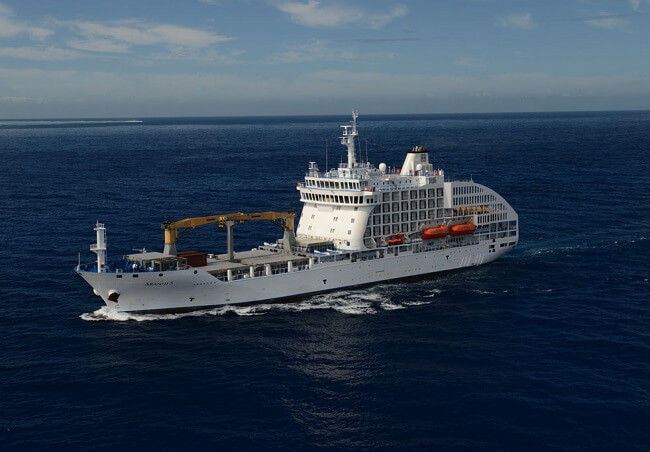 Image: ARANUI
The new ship is a custom-built dual-purpose vessel that sails from Tahiti to the Marquesas, Tuamotu and Society Islands in French Polynesia on a 14-day all-inclusive itinerary. Aranui 5 raises the bar in terms of passenger comfort and will accommodate even more adventurous travelers than its predecessor with added space for relaxation.
The new 254-passenger ship will be replacing the 200-passenger Aranui 3, which began service to the Marquesas Islands in 2003. The company has been providing adventure-seeking travelers with a unique, once-in-a-lifetime adventure cruise since the 1980s to experience first-hand the local cultures of the Marquesas Islands, arguably the most remote archipelago in the entire world.
Aranui, meaning "the great highway" in the local language, serves as a lifeline to the inhabitants of the Marquesas islands, bringing supplies to each principal village and several remote valleys 17 times per year.
"Many of our voyages have been filling or reaching near-full capacity upwards of a year prior to departure. The launch of the Aranui 5 will better accommodate the demand for our one-of-a-kind experience with more spacious and comfortable quarters," said Jules Wong, marketing director of Aranui.
The Aranui 5 will follow the same 14-day itinerary as the Aranui 3, with an additional stopover in Bora Bora on the return trip. The ship features 103 cabins specially designed with added space for passengers' comfort and pleasure, featuring additional common places to unwind with an interior decor reflecting the Polynesian heritage and more balconies in the suites and superior deluxe staterooms.
Travelers booking a stay aboard the Aranui 5 will be able to choose from eight different cabin categories with accommodations ranging from Premium exterior staterooms (more than 90 percent with a private balcony) and Standard exterior staterooms with a picture window or porthole to Class C shared dormitory style cabins with occupancy for four to eight people. Room categories are Presidential Suite, Royal Suite, Premium Suite, Junior Suite (without balcony), Superior Deluxe, Deluxe, Stateroom and Class C – each providing diverse room configurations.
Public areas on the Aranui 5 include a reception area, casual restaurant, four bars, including the Sky Bar with sweeping panoramic views, dancing room, two conference rooms, two lounges, library, video and computer room, boutique, outdoor swimming pool with a whirlpool, fitness room and massage room.
The decor features Marquesan designs, Paul Gauguin prints and original paintings by Erhard Lux, a German artist who lives part-time in Moorea. The ship also features air conditioning in all passenger areas and indoor public spaces as well as two elevators onboard.
On this once-in-a-lifetime adventure, passengers board the ship in Papeete, Tahiti for a 14-day complete vacation experience sailing 800 miles north to some of most spectacular and remote islands in the world, where they will be fully immersed in the Polynesian culture. The Aranui 5 will regularly visit Takapoto and Rangiroa in the Tuamotu Archipelago, Bora Bora in the Society Islands, as well as Nuku Hiva, Ua Pou, Hiva Oa, Fatu Hiva, Tahuata and Ua Huka in the Marquesas Islands.
Related news: Half Cruise - Half Freighter ship Aranui 5 set to sail in November 2015
Source: aranui.com