Attempts of the South Korean shipping company Hanjin Shipping to refloat containership Hanjin Aqua that ran aground off Sangiang Island, Indonesia on December 4 have proved to be unsuccessful, according to an update from the ship's owner.
Namely, last week the vessel's owners tried self-floating with the ship's own engine and tug boats, but it could not be pulled out.
As these efforts failed, Hanjin Shipping is now arranging for the salvage of the vessel via salvage companies.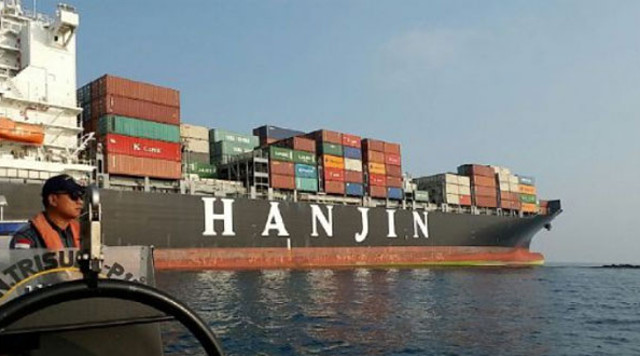 The Panamanian-flagged containership Hanjin Aqua ran aground onto the rocky shallows while sailing to Jakarta from Port Adelaide, at Sunda Strait. The ship is reported to be carrying 2,303 TEU of cargo including hazardous waste.
MV Hanjin Aqua sustained damage to its hull and breaching some of its ballast compartments that started taking in water causing the ship to develop a list. However, the ship is not in danger of sinking.
"In respect to refrigerated cargo please note that the vessel is safely powered and reefer containers are operating as normal," Melbourne-based shipping company ANL informed.
The container ship has been replaced by a substitute vessel on the service, which has been normalized.
The 2012-built container ship features 62,448 in DWT and is 249 meters long.
Related news: Container ship HANJIN AQUA hard aground in Sunda Strait
Source: worldmaritimenews.com